Alavanyo & Nkonya citizens seek to Promote peace back home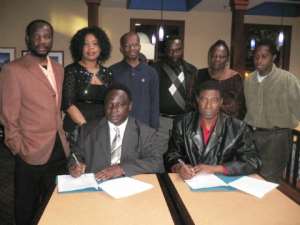 The Alavanyo and Nkonya citizens in North America held a joint meeting concurrently in Toronto and New York City, USA on the 22nd of January 2006 to toast the chiefs of the two traditional areas on the historic four-day meeting in Ho for a peace agreement.
These two traditional bedfellows have had decades of strained relations on account of land feuds resulting into temporarily impasses, disrupting socio-economic activities between them.
The North American representatives of these groups fully endorse and supported the peace initiative of the chiefs and people of these areas in Ghana and bolster the process to have the hatchets of war buried so as to musters efforts to work towards lasting peace.
The North American fraternity of the two groups also pledged to refrain from any opposing activities that will derail the reconciliatory process.
Reconstruction of infrastructure in these traditional areas by the local, regional and national authorities was also inspired by the North American representatives to crank socio-economic activities that have laid dormant in the wake of sporadic skirmishes in previous years.
A letter on the Joint Peace Declaration made on the above date by the North American representatives will be sent to the President of Ghana, His Excellency John Agyekum Kuffuor for mediation in the land dispute.
Dr. Evans Fiakpui, Dr. Mattson Atsunyo, Dr. Samuel Dzodzomenyo, Mrs. Hannah Akosuah Deh, Mr. Newton Fiakpoey, Mr. Asangba make up the Alavanyo Representative Group from the USA are the signatories of the Joint Peace Communiqué, as well as Mr. Simon Kofi Adzraku and Mr. Edward Anku from Toronto. Mr. Obed Komla Adore, Mr. Kwabena Dwamena, Mr. Foster Komla Owuatuh, Mr. Philip Kwame Fosu, Ms. Comfort Adom-Boafo and Comfort Anku all represented the Nkomya Group in Toronto.
Source: Ghanaian News Canada