A 450 chamber Parliament for what?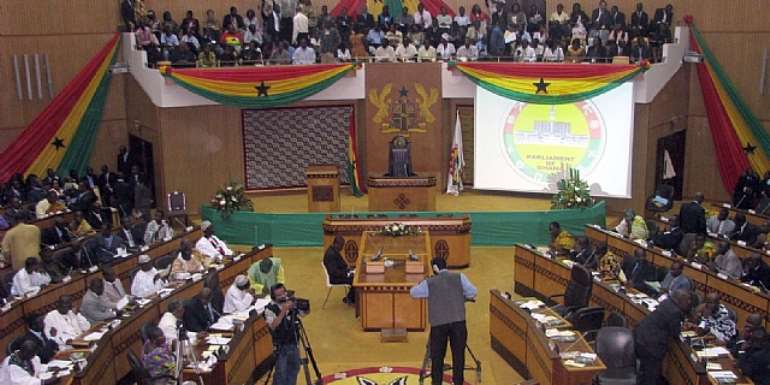 I woke up one morning and as usual, I decided to check the various news portals to know which stories were making headlines, my attention was drawn to a headline that read," Construction of new chamber in Parliament needless- Ras Mubarak". I tried to wrap my head around the headline whose immediate interpretation to me was that, there is going to be an extension, maybe a renovation to the parliament house. However, I wondered what extension more was needed to be done, because the completion of Job 600 (a US$87 million parliament extension which provides office accommodation for MP's ) is barely a decade old. To clear my confusion, I decided to read the news item. Then I learnt that,parliament is seeking to construct a 450 chamber parliament. The complex which will have 450 seats for MPs as compared to the current 275 will also include; libraries, a parliamentary museum, prayer areas for MPs of all religion, a canteen and a media centre. Although, the news item was not certain on the exact cost of the facility, it stated that parliament would not go in for the facility if it costs more than US$200 million.
A US$200 million palace for legislators? Ha! I wondered the number of factories, ambulances and school buildings that the amount can be used for. Aaware! What do Ghanaians think of this proposition. I skimmed through the comment section and predominately, most people questioned why a state highly indebted would want to pursue a $200 million fancy parliamentary complex. Others argued why the money would not be invested in creating more factories to increase employment or to construct more school buildings to end government's controversial double-track system and issues of schools under trees. I was amazed at these cogent points raised by some citizens and I tried to generate reasons for which parliament would want to embark on such a wasteful project.
I was therefore glad, when I heard that, parliament will on Thursday, July 4th 2019 address citizens on the necessity for the construction of a 450 chamber parliament on GTV at exactly 9:30am. Half an hour to the stipulated time, I was eye glued to my television waiting for the Majority leader, Hon. Osei Kyei Mensah Bonsu to explain things to help me diffuse off all speculations. Indeed, he made a solid case for why Ghana needs a new Parliamentary Complex. According to him, the structure is needed because;
The space between the Majority and Minority in the current Chamber is short and needed to be widen.
That we need a new chamber so that in the event that tempers flare up, it won't be easy for the majority and minority to clash.
That someone could pour acid on the speaker in the current chamber.
That the parking lot is far from the chamber and this exposes MPs to rain during wet seasons and periods.
These and many more arguments did the Majority Leader make for the construction of the proposed structure. After hearing and watching him raise those points, I asked, do these parliamentarians need a $200 million platform for such arguments or they need some few Ghana Cedis to be enrolled to a debate club in any learning institution of their choices?
Well enough! Having convinced myself that, our current parliament is ill-informed as to how to efficiently use $200 million, I would heed to the words of His Excellency the president of the republic and not be just a spectator or in this scenario a reader but be a citizen and highlight some relevant and immediate ventures this huge sum of money can be invested into.
First is the provision of portable drinking water. I would not blame parliamentarians if they have lost touch of the real living conditions of Ghanaians, perhaps, V8s and fancy apartments bring about forgetfulness,but it is needful to remind them that, in some parts of the country, humans drink from unclean rivers and share these waters with animals. A borehole with a pump costs an average of 30,000 Ghana cedis and with an amount of $200 million, 33,333 boreholes can be built nationwide.
Secondly, the amount can be used to purchase 2000 ambulances. Is it not sad that a country with a population pegged at about 30 million citizens cannot boast of more than 100 state owned ambulances? At an average cost of $100,000 per ambulance, $ 200 million can secure the country some 2000 state owned ambulances.
Lastly, $200 million can be used to construct more school facilities. A country with numerous cases of schools under trees should look more at investing available resources into constructing more school buildings to end some of these challenges than building a 450 chamber parliament because its parliamentarians feel someone could pour acid on their Speaker.
Provide solutions to these basic needs and then we can talk about a 450 chamber parliament. Ghana needs men who build lives and not men who ask for fanciful edifice and monuments at the expense of the poor tax payer whose supper is never assured and promising.
#DropthatChamber