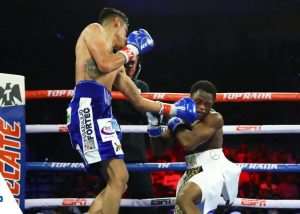 The young rising star, Isaac Dogbe who simultaneously chants 'Neho' anytime he floors his opponent in the ring, was expected to 'Neho' his strong opponent, Emmanuel Navarrette to reclaim his lost title.
Dogbe, unfortunately got 'Nehoed' in his rematch, a sad day for Ghanaians and the entire boxing fraternity who fought tooth and nail to ensure the title returns to Ghana.
Dogboe's corner threw in the towel at 2:02 of the 12th round to save the boxer from further punishment.
Dogboe suffered a technical knockout to Emmanuel Navarrette of Mexico as he sought to reclaim his WBO Super Bantamweight title.
Dogboe started well in the first with some attack-minded boxing but soon, Navarette found his feet and used his reach and jab to find some rhythm in the sexond.
From that point, the Mexican turned the screw every time Dogboe felt he could come back.
Dogboe started to wobble as early as the 6th round and by the 8th, he suffered his first knockdown but he beat the referee's count.
Dogboe tried hard to make it a contest but Navarette's counterpunching, reach and skill kept Dogboe at bay and kept the bout in his favour all night.
Add the cut to Dogboe's right eye and there was a lot for the Mexican to use to his advantage.
Finally, in the 12th round, Dogboe's corner decided it was enough and threw in the towel to end the bout.
What the boxers said:
Dogboe: "I thank God for this bout and I thank Team Navarette for the chance. I give hats off to him for a great job and I can only say well done to him. I will move up to 126-pound division. I will be more comfortable in that weight class."
Navarette: "I am very surprised that Dogboe could take so many hard shots. He could also give hard shots. I thank him for the chance to become world champion and for the chance to remind everyone why I am the world champion."
---additional files from citinewsroom