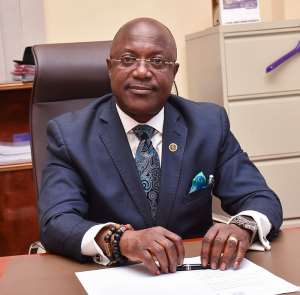 Ken Attafuah, NIA Boss
The National Democratic Congress (NDC) has expressed concerns about the unyielding attitude of the National Identification Authority (NIA) not to allow Ghanaians without some of the requisites documents to be registered.
According to the party, if care is not taking the ongoing registration exercise being undertaken by the NIA will end up destabilising Ghana peace, as many Ghanaians would be left out as a result of the documents required.
Mr Peter Boamah Otokunor, a Deputy General Secretary of the main opposition party made these observations at a press conference on Wednesday May 8, 2019.
The NDC, he said is opposed to the exercise due to the exclusion of the use of the voter ID card as one of the primary documents for identification.
The Deputy scribe of NDC told Journalists, most Ghanaians do not have access to the documents being demanded which includes passport, birth certificate, drivers' licence, as pre-requisites for the registration.
In the view of the NDC Deputy General Secretary, if such mode is allowed to continue, a lot of people will end up not getting registered and will be left as non-Ghanaians.
"The exercise will not promote the stability of the state as it will only seek to make some Ghanaians become more Ghanaian than others, which will be in direct contravention of the 1992 Constitution," Mr Otokunor said
He added, "We have particularly raised strong concerns about the exclusion of the voter ID card as a primary identification material for the registration. This, we believe will invariably disable and deny millions of Ghanaians the opportunity to register and acquire a Ghana card."
Mr Otokunor further stated that the NDC remains completely opposed to what he described as "obnoxious tactic of non-inclusion of the voter ID card as a primary identification document for the registration."
The NIA has started two weeks of registration exercises in the Greater Accra Region, which has been divided into two zones.
The Accra West and Accra East, where registration centres have been opened at specific locations.
The National Identification Authority started the mass registration and Ghana Card issuance exercise since 2018.