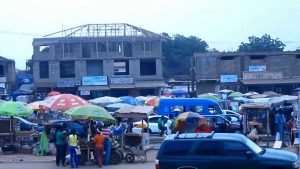 Five persons who were held in the custody of the Madina District Police Command following Monday's protests have been granted bail.
The five were arrested for attacking an official of the La Nkwantanang Municipal Assembly (LaNMA) and destroying property belonging to the Assembly.
On Monday dawn, the assembly embarked on a decongestion exercise which displeased the traders leading to protests.
The Municipal Coordinating Director, Francis Kweku Asiedu, who led the decongestion exercise, confirmed the release of the five to Citi News.
He added that, the said official who was attacked is also recovering from his head injuries.
"They were charged for causing public nuisance and lawlessness. As the law stipulates, the offence is a bailable offence so you can't keep such a person. So they have been released and the police are investigating the matter. The injured was given a medical form to go to the hospital. He has been given three days off to recover. He was hit by a stone."
Some of the traders at the Madina Zongo junction say they will continue to carry out business activities there despite the demolition of their shops.
The Assembly pulled down structures as part of routine measures to decongest the area to allow free flow of traffic.
According to LaNMA, the exercise was to rid the Madina Zongo junction of hawkers and to bring sanity to the area.
Municipal Chief Executive, Jennifer Dede Adjabeng, said the decongestion has become necessary because some recalcitrant traders have refused to relocate to the new Bohye market created by the assembly.
---citinewsroom