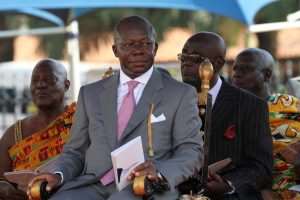 "It may seem hugely optimistic but nonetheless we remain truly hopeful that a great majority of Ghanaians will welcome a conscious effort to protect the economy from the bad risk of partisan political conflict. It is in this vein that we have welcomed the vision of the President for Ghana beyond aid. it is not a vision for the faint-hearted."
"It is a vision that deserves support not only from Ghanaians but from all her friends across the world. In other to appreciate the true measure and the essence of that vision, we must consider our circumstance, we must consider where we are coming from We seek first to assure the international investment community that Ghana Beyond Aid is a policy beyond political conflict and the world can buy into it without fear of uncertain political risk", the Asantehene, Otumfuo Osei Tutu II said.
He asked Ghanaians and the international community to support the Akufo-Addo government achieve Ghana beyond Aid vision.
According to him, this will help avoid Ghana's over-dependence on imports to build a resilient economy.
Speaking at an Executive Dinner Ball organized at the Manhyia Palace on Friday under the theme "Ghana, a promising investment destination in Africa", as part of his 20th Anniversary celebration, he assured the international Community that the vision behind 'Ghana Beyond Aid' is not politically motivated.