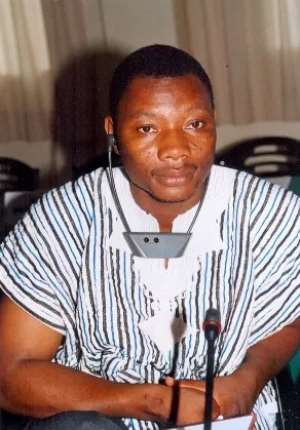 Earlier before their demonstration, the Techiman Traditional Council in a press release signed by the registrar was asking the group to rescind its decision to demonstrate in the newly created Bono East regional capital, Techiman.
But the angry Bernard Mornah, the National Chairman of the Coalition for National Sovereignty (CNS), organisers of the demonstration said no traditional authority in Ghana can stop them from embarking on their democratic exercise.
Mr Mornah who doubles as the National Secretary of the People's National Convention (PNC) indicated that the Traditional Council cannot hold their rights captive.
"Our spirit is an indomitable spirit that cannot be quenched anywhere on this land by any traditional authority" Mr Mornah to the traditional council.
He alleged that President Akufo-Addo is the brain behind the unlawful act portrayed by the traditional leaders seeking to undermine their protest.
According to him, if the Akufo-Addo is tired of managing Ghana ruined by his corrupt and wealth amassing officials, he should quietly pack and leave the Presidency for a competent leader to takeover.
"We are not cowards, our nation was built out of the sweat and courage of our forebears. We those following will follow the footsteps of our forefathers who struggled for the independence of our nation which has made Akufo-Addo President," Mr Mornarh.
Meanwhile the General Secretary for the National Democratic Congress (NDC) Mr Johnson Asiedu Nketia said his party will never allow the New Patriotic Party (NPP) to influence and intimidate the Electoral Commission (EC) to undertake the limited voter registration exercise to the district levels instead of the polling station levels.
Mr Asiedu Nketiah lamented that over one million citizens would be disenfranchised should the exercise be allowed to go on describing it as pure injustice to Ghanaians.
According to him, the incompetent nature of Akufo-Addo's government has led to a reversal of Ghana's education system on the path of destruction and chaos.
He added that the Akufo-Addo government should be blamed for deliberately collapsing of several financial institutions which has rendered most Ghanaians jobless.
"Many security agencies like the soldiers, police, immigration, fire service and other security service personnel are filled with ex-convicts, people from the numerous NPP vigilante groups," Asiedu Nketia intimated.
He finally commended the Ghana police service for the professional job exhibited towards the demonstration and tasked them not to rest their horse until the 2020 election is over.