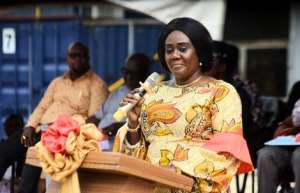 Mrs. Evely Ama Kumi Richardson
The Bono Regional Minister, Mrs. Evely Ama Kumi Richardson says she would need the support of the Media in the region to achieve her mandate through educative and informative programmes and feedback for them to know where there are lapses in order to find remedial measures to address them.
Mrs. Ama Kumi Richardson said, in the coming days and weeks, there would be several interactions and engagement with the media and other stakeholders to discuss issues bordering on the development of the Bono Region.
According to the Bono regional Minister, her office has outlined several programmes to engage key stakeholders in the region to discuss issues mutual concern and developmental issues and also to solicit suggestions and recommendations from them on the way forward for the region.
The Regional Minister said this when she was speaking at her maiden Media encounter at the Regional Residency on May 2 2019.
Some of the programmes her office has outlined include a courtesy call on traditional councils, engagement with District and Municipal Assemblies in the region, inspections of various projects in some communities, meeting with the Religious Bodies, and interactions with the Civic Society Organizations (CSOs) among others.
She emphasized that her administration will be one of an open- door policy, and therefore, encouraged all stakeholders who have the region at heart to engage her office so that together, they can better the fortunes of the people in the Bono Region.
Mrs. Ama Kumi Richardson added that, she will aspire to see a Region of less conflict and more unity.
"More importantly, I will aspire to see a region of less conflict and more unity. Progress and development can be attained through Unity and therefore, I would call on all stakeholders including Security Services, Political Parties, Nananom, Religious Leaders, and Pressure Groups to channel their energies to peace building of the region and to be development-oriented" the minister stated.
According to the Bono regional Minister, that is the sure way of benefiting from the massive development the government has to offer the people of Ghana and by extension the Bono region.
On the tourism potential in the region, Mrs. Ama Kumi Richardson said it is enormous and requires that right leadership and effective collaboration among state actors to attract the needed investment in the sector.
The Media encounter was attended by her Deputy regional Minister, Mr. Siaka- Stevens, Heads of departments, Staffs of the Regional Coordinating Council and Heads of Security Agencies.