Bondzi-Simpson Raises Two Significant Points on Constitutional Rule in Ghana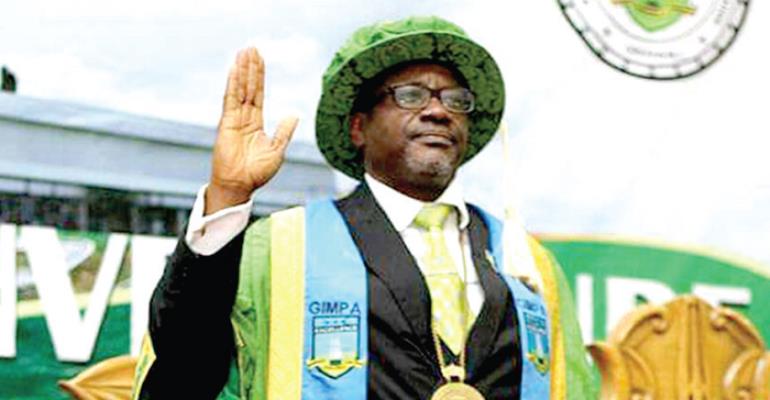 On the whole, the keynoter for the celebration of Ghana's maiden Constitution Day, Prof. Philip Ebow Bondzie-Simpson, did not say much that has not been said or raise issues that have not already been raised about the major flaws of our 1992 Republican Constitution, to wit, that it clearly appears to have been crafted to uniquely or purposely appease the Rawlings Posse of the erstwhile Provisional National Defense Council (PNDC) so-called, and the latter's bastard political god-daughter, the so-called National Democratic Congress (NDC), both of which were founded by former President Jerry John Rawlings.
In his lecture, directed to the theme of "Constitutionalism in the Fourth Republic – Towards Functional Performance," and I have already noted this in a previous column, the Rector of the Ghana Institute of Management and Public Administration (GIMPA) insightfully observed that the appointment of a critical mass of Members of Parliament as cabinet and deputy-cabinet ministers was taking a humongous toll on the quality of debates and the general performance of the members of our august National Assembly (See "GIMPA Rector Advocates for a Cap Placed [sic] on the Number of MPs" Modernghana.com 1/9/19).
The concerns raised by the GIMPA Rector underscores the greater significance and practical relevance of the decision by the Akufo-Addo-led government of the New Patriotic Party (NPP) to proscribe the hitherto statutorily recognized celebration of July 1, every year, as Republic Day, which needlessly and vacuously marked the ominous entrenchment of the Nkrumah dictatorship between 1960 and 1966. Indeed, as I have already noted in a previous column, Republic Day unwisely commemorated the unilateral decision by the founding-father of the so-called Convention People's Party (CPP), then-Prime Minister Kwame Nkrumah, to cease rendering regular and periodic account of his stewardship to Ghanaian citizens via their elected representatives in our National Assembly, as handed down to him by the departing British colonial rulers.
Yes, it was a veritable Westminster "Hand-Me-Down," nevertheless, it served the liberal democratic purposes of the country while it lasted, briefly, from 1957 to 1960. As an "Executive President," the former Prime Minister Nkrumah no longer had any obligation to appear before Parliament on a weekly or biweekly basis to render an account of his stewardship. He became practically a law unto himself. It was the irruption of this Darwinian state of affairs that prompted Dr. JB Danquah to mockingly observe that no longer did Ghana maintain its noble and respectable and civilized status as a constitutionally democratic culture but that, henceforth, the country could be accurately compared to a late 17th-century or early 18th-century French monarchy, where the personality of the King or Queen strikingly mirrored the character and identity of the state. "L'étât C'est Moi," Danquah disdainfully quoted King Louis XIV. He would shortly dearly pay for this with his life.
In recent weeks, Ghana's Parliamentary Speaker, perhaps the most authoritative scholar on the history of the period under discussion, Prof. Michael Aaron Oquaye, has provided ample evidence that ought to put paid to any questions about the all-too-constructive decision by the Akufo-Addo Administration to proscribe July 1 as a paid public holiday beyond dispute. Only Nkrumah fanatics, and there are quite a remarkable percentage of them still present among Ghana's teeming general population, adamantly refuse to let good judgment and historical relevance prevail.
Some believe that it is either the government's failure or inability to facilitate the swift recovery of monies of greedy local investors who have literally been taken to the cleaners by the Menzgold and Zylofon Ponzi Scheme scam-artists that could well spark a civil war in the country. I, on the other hand, strongly believe that it is any dastardly attempt by the Nkrumah fanatics to revert the country back to a slavocratic celebration of Republic Day that could very well touch off a civil strife in the country. I also could not agree more with Prof. Bondzie-Simpson that the cancerous pace at which parliamentary constituencies are being created in the country must be promptly controlled, or we would soon wake up to realize, one of these days, that Ghana has more parliamentarians than eligible voters.
I have already written extensively on this subject in the recent past, and even suggested that the current capping of the average number of people at between 30,000 and 50,000 people per constituency ought to be raised to 75,000 or at least 100,000 at the maximum, as it presently prevails here in the United States. If our country needs anything now more than ever before, it is definitely a more efficient and a high-caliber composed parliament, as Prof. Bondzie-Simpson noted recently.
*Visit my blog at: kwameokoampaahoofe.wordpress.com Ghanaffairs
By Kwame Okoampa-Ahoofe, Jr., PhD
English Department, SUNY-Nassau
Garden City, New York
January 11, 2019
E-mail: [email protected]