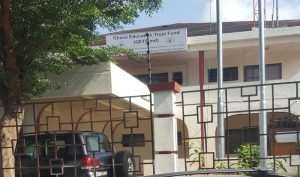 Some contractors who worked on projects for the Ghana Education Trust Fund (GETFund) are reminding Government statutory debts owed them since 2016.
They are asking Government to settle those debts. Although GETFund received parliamentary approval for a 1.5 billion dollar facility in November 2018 to, among other things defray its debts, the association of Contentious Public Sector Contractors says many of its members are yet to receive their monies.
Secretary of the group, Samuel Ofori Kumah said the situation is negatively impacting their businesses.
"Going forward, we want the government to see to the welfare of us the contractors. Government's inability to pay us, has affected and destroyed our indigenous business, we are not even able to take care of our children," he said.
Last year, Stania Company and Investment Limited, the contractors who constructed the Apedwa New Town M/A Kindergarten and Primary school in the East Akyem Abuakwa Municipality of the Eastern Region, threatened to lock up the school.
According to the contractors, GETFUND, who contracted them to build the school had failed to reimburse them over two years after completing the project, which has led to the confiscation of their properties.
According to the contractor, his bankers, Sedfund Savings and Loans Company Limited, have already confiscated his vehicle which has been put up for auction because of his inability to pay back the loan he took from them.
"I took a loan from my bankers to complete the project and after two years the GETFUND has failed to reimburse me, my Pontiac vibe has been confiscated by the bank and it has been put up for sale. They are auctioning my car just because the time given to me to make payment has elapsed, they have indicated that they will be coming for my house which I used as collateral for the loan".
Godwin Quao however indicated that, although he has not been paid, GETFUND has proudly published the school in their brochure as part of completed GETFUND projects.
---citinewsroom