NDC Flag Bearer Aspirant "Agbemava" Joins Hands With Mahama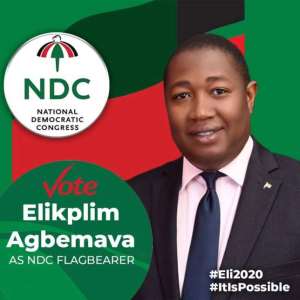 A flag bearer aspirant of the National Democratic Congress (NDC) Mr. Elikplim Agbemava has dropped out of the race to joins hands with former President John Dramani Mahama. In a statement release yesterday the legal practitioner says he is dropping from the race to thrown his weight and support behind the former President.
"I wish to announce that after much soul-searching, prayer and consultations with well-meaning Ghanaians, loved ones and family, I have decided to abate my push for the presidency come 2020 and throw my weight behind His Excellency John D. Mahama," a portion of the statement said.
Mr. Elikplim Agbemava emphasized that his decision to drop out of the race is in line with what the majority of the party's followers are calling for. According to him majority of NDC faithful's believe the former President is the right man to lead the party to take power back in the 2020 general elections.
He has therefore called on all his followers as well as other supporters of the main opposition party to support Mr. Mahama to ensure he wins the primaries in early next year when they go to the polls.
"In the circumstances, I will not be picking up nomination forms by the deadline set by the National Executive Committee. I encourage my campaign team and all supporters to submit to the vision of the GO4JM Campaign for total and a resounding victory for the National Democratic Congress (NDC) in 2020".
As it stands now seven flag bearer-aspirants have picked nomination forms to run in the presidential primaries and will be contesting for the position if they are able to meet the rest of the requirements.
They include former president John Mahama, Prof Joshua Alabi, Mr. Sylvester Mensah, Mr. Stephen Atubiga, Mr. Alban Bagbin, Mr. Ekwow Spio-Garbrah and Alhaji Nurudeen Iddrisu.
The NDC has set Saturday, January 19, 2019, to go to the polls to select a candidate to lead them into the 2020 elections.