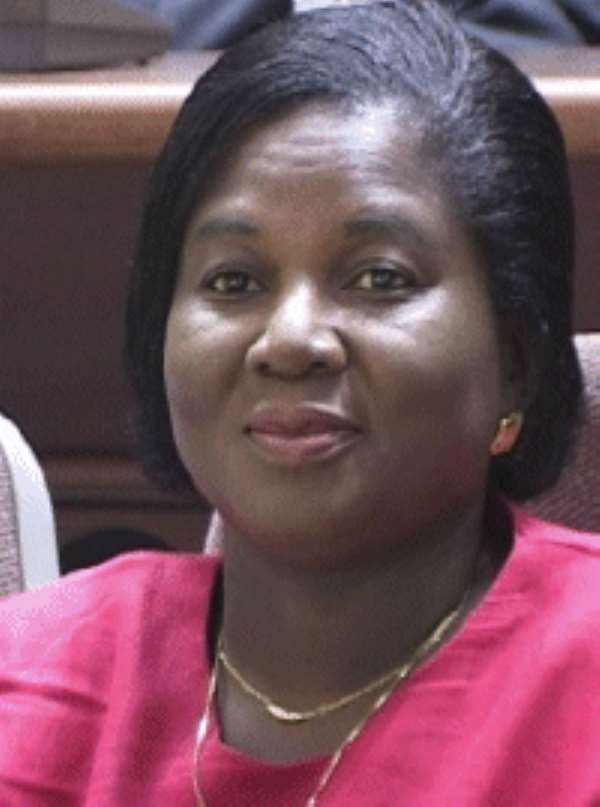 The National Union of Ghana Students (NUGS), has resolved to call on the president, to remove the minister of state for tertiary education, Miss Elizabeth Ohene from office, for failing to address concerns of students. The resolution, which was taken at NUGS' first Central Committee meeting (the highest decision-making forum of the student body) of the 2005/2006 year, is expected to be contained in a press release sometime this week.
According to Chronicle sources close to the student body, the student leadership at the meeting, charged Miss Ohene of not coming clean on matters pertaining to the Students Loan Trust (SLT) and also not being there for students when they needed her.
On the SLT, the students concluded that the minister had deceived them about the take-off date of the scheme, the last of which was given as September this year, but failed to materialize. According to them, she has since not been able to give satisfactory explanations as to why the scheme is not taking off.
She is accused also of neither being available to students when they needed her, nor responding to invitations of SRCs to clarify issues confronting them.
Examples of her irresponsiveness to students, cited at the meeting were her failure to attend the maiden matriculation of degree students of the Ghana Institute of Journalism (GIJ) as well as the NUGS' congress in Sunyani.
Ms Ohene was said to have failed on both occasions, as well as others, to even send a representative.
The meeting which was held at the Accra Academy on the night of Friday, November 11, 2005, ending at about 6.30 the following morning, was attended by students representative councils (SRCs) of about 23 institutions, including members of Teacher Trainees Association of Ghana (TTAG), Ghana Union of Professional Students (GUPS), private universities like the Central University College and the All Nations University, the traditional universities and the University Students Association of Ghana (USAG).
Meanwhile, when the paper contacted Miss Ohene about the moves by the students, she refused to comment on the substantive issues raised by the student body.
According to her, since she had no prerogative to decide for the union, she could not stop them from passing the resolution, and therefore would not go into such issues.