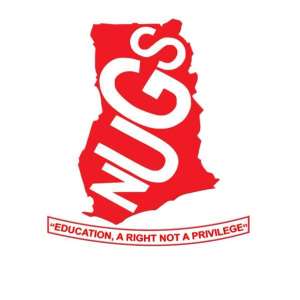 *TAKE YOUR FILTY HANDS OFF STUDENT GOVERNANCE AHEAD OF NUGS CONGRESS 2018 - LOCAL NUGS WARNS NDC AND NPP!!*
The international Union of students which is the mother body of all student leadership squadrons under the United Nations, has an underpinning principle that all students front should disconnect themselves from the various activism of political parties. Thereby not making them contingent but rather self-standing in relation to projecting the Supreme goals of students.
Against this background , all national student leadership frontiers without any short lip of breath are supposed to unremittingly anchor the numerous student interest of every nation, improving upon their standard of employment after school, facilitate them to have a congenial and serene environment for teaching and learning at all levels and also, at all times putting the general welfare of students first.
It is an undeniably fact that, the National union of Ghana Students (NUGS) started as an independent movement of students which charted the course of self-rule squarely by resourcefully mobilizing the students fore against colonial rule and its reverberate effects.
Time past, NUGS was known as the United Gold Coast Students in the 1930s. Undoubtedly, the role that the student fore played is highly indispensable in consolidating the overall process leading up to independent.
Fast forward, the United Gold Coast Students was renamed in the year 1962 under Dr. Kwame Nkrumah as the National Union of Ghana Students (NUGS).
The current objectives of the NUGS are to discuss student's problems, coordinate student activities and to formulate opinion on matters of mutual concerns. (Angel 1990, 234).
_However in recent times, NUGS, the largest student body in Ghana has been engulfed in a traumatic crises which has blindfolded its initial intent and hence has led to switching base from its core values such discussing students problems, coordinating students activism and formulating opinions on matters of mutual concern to toeing the outfits of politicians and political parties._
*Sadly, reliable information reaching Aspirants, the Local NUGS Secretariats, Blocs and Students of our beloved nation indicates clearly that the National Youth Organizers of the major political parties in Ghana (NDC and NPP) are on a shooting spree at the bargaining table to share the leadership positions of NUGS in a 4:6 ratio.*
*Our checks clearly indicates that the National Youth Organizer of NPP and NDC, Henry Nana Boakye (Nana B) and Daniel Opare Addo (Pablo) entered into a negotiation to agree on this power sharing modus at Dome. We are informed again that a follow up meeting was organised at the A&C Mall, East Legon among the representatives of the aforementioned political parties on thursday 8th November, 2018 to agree on the power sharing deal that was initiated by their bosses which ended in a deadlock.*
_It is disheartening to say that nomination was opened, forms were picked and filed accordingly. Aspirants toured the lenght and breath of Ghana to campaign in their quest to serve their constituents and again undergone through vetting just to be informed that these selfish and greedy political actors have agreed in principle that the way to go is to share leadership the once loudable Student voice between the NPP and NDC._
*_Let it be said without fear that the stakeholders of this Union would not agree to the dictates of these Youth Organizers who's outmost interest is to inflitrate the rank and file of NUGS to archieve their parochial and egoistic devilish interest._*
The NDC and NPP without a shed jot of doubt has truly, lost its sense of identity and reasoning by meddling in the affairs of NUGS and being more of a student body hence, ditching sight of championing the interest of the mass unemployed young people of our country which was indeed, the seed reason that engined it.
_We are calling the Chief of Staff, the Minister of Education, Past NUGS Leaders and all stakeholders to join this clarion call from the various Local NUGS Secretariat across the country as we seek to empower the Blocs of NUGS to see to the organization of this years Congress._
*Accordingly, we are sending a strong warning to the National Youth Organizers of NDC and NPP to take their filthy hands off the issues of NUGS ahead of this years Congress and desist from thier attempts on a power sharing module since this will incur the wrath of the Ghanaian student movement and will not see the light of day.*
_We shall fight any move with the last drop of our blood to redeem the image of our Union, NUGS!_
We are by this calling on the various Bloc Heads to show leadership in the light of these unfolding events to salvage NUGS from the hands of the devourers least we dare say that posterity will judge us kindly.
Equally, there is the rapid urgency to call the two divided factions to order in other to avert future manifestation of events that have culminated in past where we now have two separate leadership wing for one movement. The media on the other hand, must be very circumspect in their reportage because, the media arena has been sharply divided between both opposing sides.
May God bless mother Ghana and its diligent students.
.....signed.....
*For and On behalf of all Local NUGS Presidents and Students of Ghana.*
Agyei Mensah Michael (Network)
L/ NUGS President,
UDS WA campus.
Chairman
Adu - Brempong Yaw Boampong
L/ NUGS President,
KNUST.
Frimpong Ebenezer
L/ NUGS President
University of Ghana. (Main campus)
Maame Afua Osorade
L/NUGS President
University of Ghana (City Campus)
Tenge Patrick Atsu
L/NUGS President
University of Ghana
(Distance Education)
Ebo Mensah Acquah
L/NUGS president,
UCC.
Peter Darkwah
L/NUGS President,
UEW-Mampong Campus.
Secretary
Otuo Acheampong Rabbi
L/NUGS President,
IBM&J Kumasi.
PRO
Abdulrahman Abdulmanaf
L/NUGS President,
UDS-Nyankpala.
Organizer
Yeboah-Osei Kwame Isaac
L/NUGS President,
UHAS, HO Campus.
Liquinda Esaaba Nkrumah
L/NUGS President,
UCOMS, Accra Campus.
Dominic Aidoo
L/NUGS President,
UEW-Kumasi Campus.
Lucky Adeline Aanomah
L/NUGS President,
UDS Navrongo Campus.
Nathaniel Larbi
L/NUGS President,
UCOMS Kumasi Campus.
Trinity Johnson
L/NUNGS President,
NAFTI cantonments/ Accra.
Joshua Agyei Antwi
L/NUGS President,
Kessben University College, Kumasi.
Kumi George Junior
L/NUGS President,
Jayee University College.
Abankwa Daniel
L/NUGS President,
Presbyterian University College.
Bright Owusu Ansah
L/NUGS President,
UDS-Tamale Campus.
Georgina Buabeng Boateng
L/NUGS President,
Baptist University Kumasi.
Obeng Sika
L/NUGS President,
Garden City University.
Abdul Aziz Sharif
L/NUGS president,
Islamic university.
Abdul Karim Mutawakil
L/NUGS President
M.I.S.T
Mr Emmanuel Frimpong
L/NUGS President
Accra Business School
Nathaniel Frimpong Junior
L/NUGS President
Oxford Institute of Business and Journalism
Tengey Mawuli
L/NUGS President
University of Mines and Technology (UMaT)
Akuffo Silas
L/NUGS President
University of Energy and Natural Resources (UNER)
Raphael Kateye Pernarh
L/NUGS President
UEW-A
Bagmae Kwesi Obed
L/NUGS President
Wisconsin International University College, Ghana.
Cc: The Chief of Staff, Office of the President, Republic of Ghana
The Hon. Minister of Education, Ghana
The Judicial Board, NUGS
All Bloc Heads
Students of Ghana