Teachers Urged To Inculcate Communal Spirit In Their Students To Improve Sanitation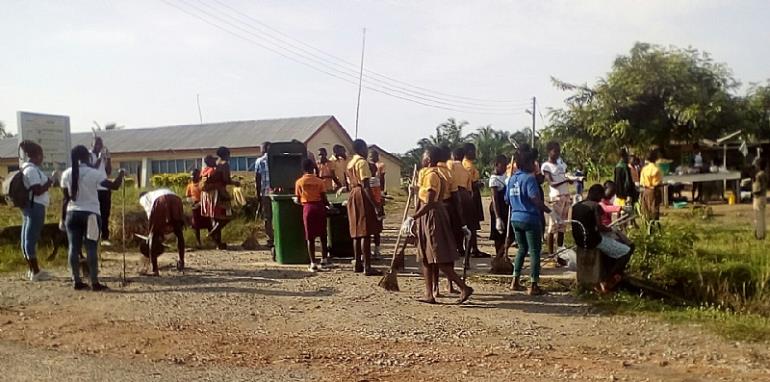 The Gomoa Postin Local Chairman of Ghana National Association of Teachers ( GNAT), Mr. David Mensah has urged teachers across the country to inculcate communal spirit in their Students to enable them contribute their quota towards the fight against environmental related diseases.
According to Mr. David Mensah, the fight against firth could only be won if teachers encourage their students to observe sanitation in their schools and communities.
" As teachers, we must set the pace for the children we teach to emulate. Being role models, it therefore behooves on us to partake in clean up exercises wherever we find ourselves. This will encourage our students to follow suit.
Let us inculcate communal spirit in the children we teach in our various classrooms so they would put into practice what they have learnt concerning the fight against environmental related diseases"
Mr. David Mensah stated these when the Local Association organized a 4-hour clean up exercise at Gomoa Postin in the Gomoa East District of the Central Region on Wednesday to raid of firth from the community.
The Local Chairman hinted that more of such exercises would be carried out in other communities under Postin Local GNAT and to sensitise the people on the need for them to observe personal hygiene.
" In the wake of recent rainfalls, there is the need for all choked gutters to be cleared of firth"
The Gomoa East District Coordinating Director, Mr. Seth Anim Boadi commended the Local GNAT chairman and his executives for the clean up exercise adding the Assembly was ready to support them to reach more communities in the District.
" Prevention is better than cure. Sanitation play important role in disease prevention. We should therefore ensure that our environment is kept clean.
Government spends a lot of money to pay staff of Zoomlion Company Limited for rubbish collection. This drains the economy.
Monies spent on sanitation could be used towards national development. We should be citizens towards Sanitation issues
We must be sanitation ambassadors in our communities. Eradication of environmental related diseases should be everybody's business .
I also appeal to authorities of the Ghana Education Service (GES) to include Sanitation related subjects on the schools timetable.
This would enable children attach important to sanitation issues at their tender age"
Madam Doris Arhin, GNAT-LAS Coordinator for Postin Local GNAT in an interview with newsmen disclosed that GNAT-LAS took part in the clean up exercise due to various roles they play as female teachers and mothers in the society.
" Being women who perform most of house chores, we need to educate our children to observe personal hygiene and also participate in communal labour. So our presence here is to showcase our commitment to sanitation for our children to emulate.
So we are here with the children teach not only for this clean up exercise but to let them know the importance of keeping their surroundings clean and tidy.
Even though we teach them to observe personal hygiene, they have put into practice what they have learnt in school.
We undertook this exercise also to tell people in the community that we (teachers) are part of the of the solution towards environmental Cleaniness
We don't only work in the classrooms but contribute our quota towards the development of the communities in which we live. We are partners for community development "
Madam Doris Arhin encouraged women in society to participate in communal labour and self-help projects to improves the lives of the people.
The Gomoa District GNAT Secretary, Mr. Emmanuel Ebo Arthur lauded Postin Local GNAT executives for undertaken the clean up exercise thus urging other Twelve (12) Local GNAT executives to emulate their shining example.
He expressed the hope that the exercise won't be a 9-day wonder but would be continued regularly.