Be Courageous to Speak Against Corruption in Public- NCCE Boss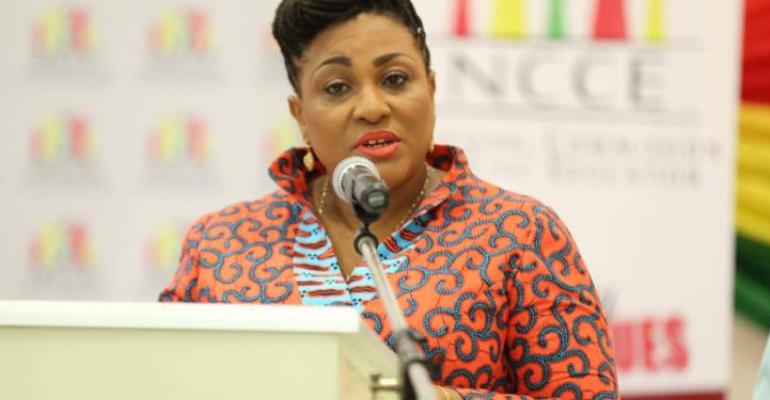 The Executive Director of the National Commission for Civic Education (NCCE), Ms. Josephine Nkrumah says the fight against corruption in Ghana will not end if citizens do not speak up on corruption activities in the country.
According to her, corruption in Ghana permeates almost every aspect of the Ghanaian society and it will only take bold citizens to fight it.
Speaking at the second edition of the Ghana Action Series, under the theme, "Responsible Citizenship and Accountable Leadership," Ms. Josephine Nkrumah, said failing to speak up against corruption allows the practice that robs the country of its scarce resources.
"Corruption benefits only the individual taking it and adds up to robbing Ghana of about GH¢3 billion annually. Money that can wean us off donor dependency; the dream and essence of our Ghana beyond aid. When we as citizen leaders fail to speak against the conduct of the policeman and the trotro driver, we have condoned corruption," she stated.
The NCCE Boss added that if citizens lead by condemning or reporting any act of corruption, it emboldens a new anti-corruption movement.
Sadly, Ms. Josephine noted that we [citizens] have collectively failed to minimize corruption.
According to her, corruption fester poverty, breaks down social justice and cripples the essence of democratic governance.
She stressed that Ghana faces a bleak future as far as corruption is concerned if conscious efforts are not made to instill into the youth values that abhor corruption.
Cataloging some violent and disruptive actions across all sectors of the society, Ms. Josephine Nkrumah intimated that the system at the moment is designed to fail the youth, a situation which must be adequately checked.
Her call follows reports that Ghana dropped 11 places from the 2016 ranking to place 81 out of 180 countries in the 2017 Corruption Perception index.
The Index put together by Transparency International ranks countries annually by their perceived levels of corruption, as determined by expert assessments and opinion surveys.
Ghana sadly scores 40 out of a total of 100, which the country attained in the last index.