Rotation Nurses In Upper East Region Declare Strike Over Unpaid Allowances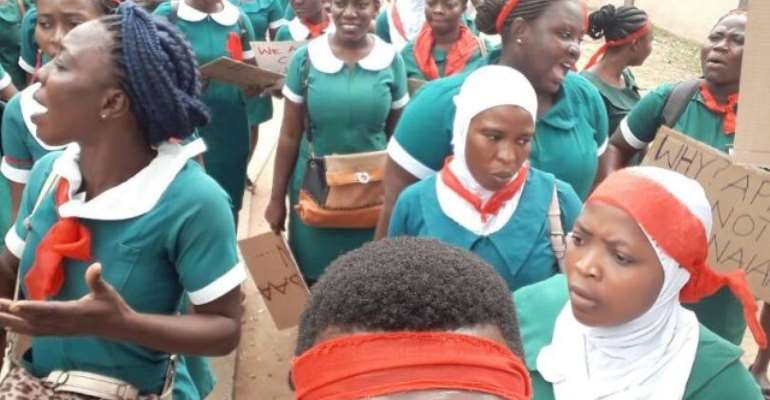 Rotation nurses in the Upper East Region have declared an indefinite strike over unpaid service allowances.
About 147 nurses at the Bolgatanga Regional hospital in the regional capital joined their colleagues in other districts to strike on Monday, 5 November 2018 to compel the government to pay their arrears.
This strike follows that of other rotation nurses in the Eastern Region who began theirs last week.
The nurses, who said they had not been paid for the past eight months, converged on the administration block of the Central Hospital and chanted songs.
They expressed their displeasure with the government, saying there is too much "concentrating on free education" while "we are suffering". "Until he pays our money, we're not coming to work."
The nurses claim they have been neglected by the government.
"We've been neglected. Since school time and up to now, we're still neglected.
"In history, we are the only batch that did not even get allowances during school time, and, as of now, we've not gotten our allowances. Is it possible? And they expect us to come to work every day. The government should do something about it."
The spokesperson for the group, Makafui Livingston told journalists that their colleagues in the north had not been cleared financially.
"What bothers me the most is our colleagues, those that have not been cleared financially, we have Yendi Nursing Training and another one from the north; they have not been cleared financially at all, so, they are not giving them anything now. As to whether they'll be getting the money or not, we don't know and it's very sad."