Mantrac Ghana Graduates 3rd Batch Of Caterpillar's Technicians For Africa Program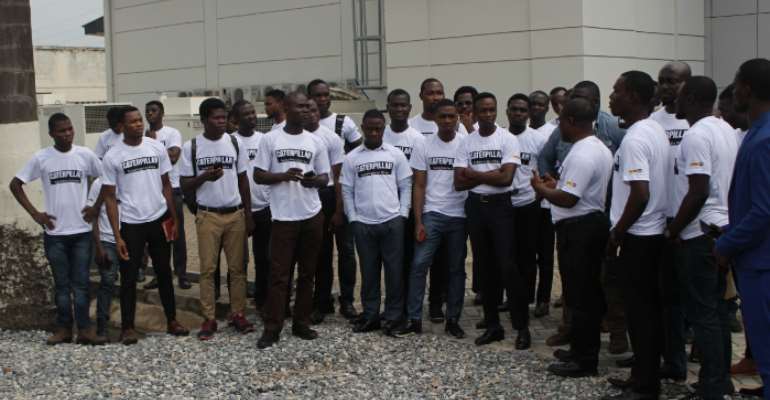 30th October 2018 Accra, Ghana - Mantrac Ghana Limited the authorised dealer of Caterpillar products and services in Ghana is pleased to announce the graduation of the 3rd batch of students from Caterpillar's Technicians for Africa Project – Ghana Edition.
The Technicians for Africa Project is a free online program for Africans seeking a new and exciting career as service technicians. It is fully sponsored by Caterpillar, the global leader in construction and mining equipment in collaboration with its dealers like Mantrac Ghana across Africa.
In Ghana, the program was launched in November 2016 and currently has 171 Certified graduates ready to begin an exciting journey as Service Technicians. The biggest number in Africa after Mozambique.
The program takes 3-6 months to achieve Foundational Certification and begin an exciting journey towards a possible career as a well-paid and highly valued service technician in the automotive, trucking or heavy equipment industry. It's an opportunity for Technicians who wish to work with Mantrac Ghana to go through this process making them possible choice once there are vacancies.
Mr. Steven Scott, Managing Director of Mantrac Ghana indicated that, "This is a great opportunity for our young graduates to be selected for work once they graduate", Since the Caterpillar Dealership in Ghana was formed in 1937 we continue to upgrade the skills of our technical staff to meet the requirements of the dynamic construction industry. We are proud to say we currently have some of the Graduates from the program working with us.
Speaking to the Media after the event, Daniel A. Pabby, Head of Marketing and strategic planning indicated that anyone who aspires to be a service technician can gain vital knowledge from this free of charge training. It is however, no guarantee of a job opportunity at Mantrac Ghana but it can provide you with the credentials to begin an exciting and fulfilling career with Mantrac Ghana Limited and other Caterpillar dealer organisations across the world. This is one of the many ways through which Mantrac Ghana is boosting the skills of Ghanaians in the construction and mining industry. The program is just a click away https://techniciansforafrica.caterpillaruniversity.com/about-the-program/