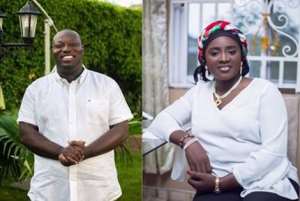 NDC Holland Chapter congratulates the newly elected National Women Organiser, Dr Hannah Bissiw, and her two Deputies, namely: Maame Efua and Abigail Elorm; and newly elected National Youth Organiser, Mr. Opare Addo, and his two Deputies, namely: Edem Agbana and Ruth Dela. On 27 October 2018 our party went to the polls to elect Women and Youth Organisers, and their Deputies.
Internal democracy in a political party is characterized by transparent, accountable and inclusive rules, organizational structures and processes. We as social democrats believe in the equality and the egalitarian treatment of all persons, irrespective of their social, cultural, tribal, educational and religious background. We believe that for democracy to survive people like you have demonstrated your willingness to run and won your positions. You gathered the courage to do it, and we say "bravo". We believe the future is for the youth and women, because they are the pillars and backbone of the party upon which a formidable platform can be built to wrestle power from NPP in both the parliamentary and the presidency in 2020.
We wish that trust given to you by the delegates serves as a source of energy and determination for you to continue to work for the benefit of NDC and defend interests of your country. May you inspire people for meaningful achievements that contribute to prosperity and solidarity of NDC and promote rich culture of our country. On behalf of NDC Holland, congratulations on your undoubtedly well-deserved election. We appreciate your hard work and commitment to serving your party.
We also want to congratulate all contestants who put up their best but did not win. We believe the party has won for all of us, and the chances are so great for you in our next election. Our thanks also go to the party members, foot soldiers and National Executives whose dedication saw the party to smooth election and transition. Finally, we thank the Electoral Commission for conducting and supervising this election.
Very soon the party will go to National Congress to elect other key National Executives, and elect our Flagbearer. NDC Holland holds the view that internal election should be seen as a basic structural feature of a political party. There is no limitation to candidates going about their campaigns, however, we disagree with campaigns that riddle with factionalism, internal division, witch-hunting, bad-mouthing and down-right intolerance to criticism. We also believe that impetuous and adversarial have the possibilities to leadership wrangle which will in turn open a floodgate of war of words. As a rule of thumb, a good political campaign message directly plays with the delegates perception and helps them choose which candidate to vote for. A clear and unambiguous messages are the way forward, rather than personal attacks and insults or unnecessarily derogatory remarks.
We, NDC Holland, publicly denounce missteps or character flaws with similar disdain. We prefer a cleaner, substantive, and more deliberative process.
In conclusion, let us adhere to the policy of probity, accountability and transparency.
God Bless Ghana,
Ghana Bless NDC
Eye Zu, Eye Za
Lewis Kwame Addo
PRO
NDC Holland Chapter