Takoradi: Anaji Choice Mart Now Opened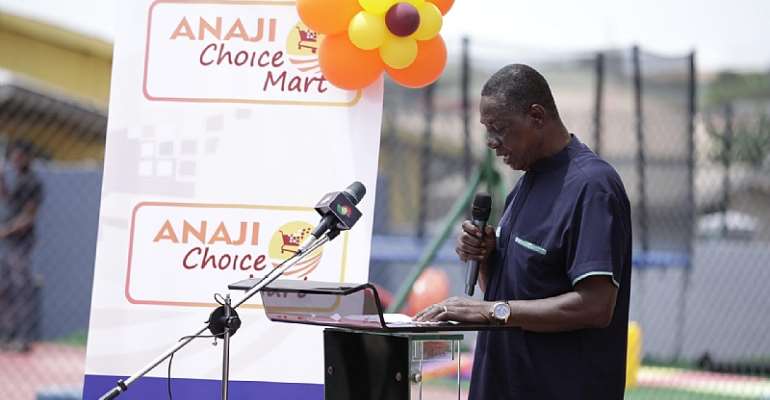 Maybek Services Limited, parent company of Baatsona Total has successfully opened a modern shopping centre, Anaji Choice Mart, in Takoradi the capital city of Western Region.
The 3000 square meter shopping centre offers an extensive range of services including a Deli, in-house Bakery, Butchery, Supermarket, Salon/Spa, Multipurpose hall, restaurant and Children's playground. It also features a state of the art electrical store, Contactum which sells quality European electrical fixtures.
Director for Maybek Services Ltd, Mr. Ebenezer Nyarko in his address at the grand opening ceremony, hinted that the establishment of the Anaji Choice Mart was born out of almost two decades experience of successfully managing a retail business like Baatsona Total, and the delivery of top notch service to its customers. He also stressed that shopping centre presented the opportunity to bring authentic modern everyday items required in households to the doorsteps of Ghanaians residing in the area.
"We are passionate about things that matter to others; convenience, quality and affordable goods and services, unmatched customer experience, job creation and local development", Mr. Nyarko said.
"It is our aspiration to become a community feature, where customers can pick up their weekly shopping, forgotten ingredients and also gather for community events and more."
Also speaking at the ceremony, the Western Regional Minister, Dr. Kwaku Afriyie applauded Maybek Services Limited for the investment made in the region. He noted that establishment of Anaji Choice Mart is laudable, as it provides evidence of government's drive to improve the private sector and promote local businesses. "What we are witnessing here is in conformity with government policy. Government is not interested in doing business. We want to leave businesses to individual entities, families and corporate bodies. That is our philosophy", Dr. Afriyie stated.
He also encouraged potential investors to take advantage of the numerous opportunities that exist in Western Region.
"This is the richest region in the country and the Western Regional Coordinating Council will do everything to help investors who want to set up businesses here", he added.
Located at Anaji Saint Francis Road, Anaji Choice Centre is open 15 hours a day, 7 days a week between the hours of 6:00am – 10:00pm
ABOUT MAYBEK SERVICES LTD.
Maybek Services Limited is the parent company of Baatsonaa Total (formerly Baatsona Mobil) located on the Spintex Road. It is a family-owned and operated business, established in June 1999 with the main objective of selling fuel and petroleum products. However, during the course of operations, the focus was shifted more towards the sale of FMCG (fast moving consumer goods) and that has grown to become the cornerstone of the company's operations.
Currently, under the Maybek umbrella, services offered include a barbering shop, salon, a shopping mart, Mobile Water instant refill plant, fuel retail, lube services and ATM installations for quick cash withdrawal. Maybek Services strives to offer its various clientele unmatched customer service while continuing to study market trends and investing in fast and high yielding products that help to maximize shareholder value.