Takoradi Technical University Operating Within Mandate — Vice Chancellor Assures Gov't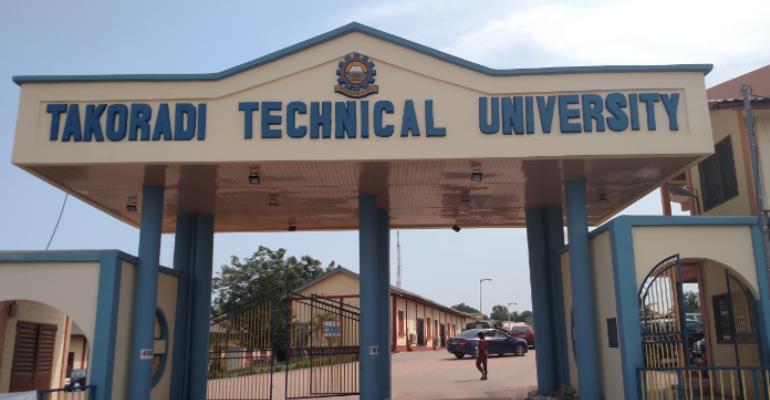 The Vice Chancellor of Takoradi Technical University (TTU), Prof. John Frank Eshun, has assured the Ministry of Education that the university is operating within its mandate as a technical university dedicated to producing highly-skilled manpower for industry.
Speaking during a matriculation ceremony for freshmen of the 2018/2019 academic year, Prof. Eshun said the overwhelming number of new students admitted to pursue technology-related programmes is proof that the university has not veered from its original objective as Minister of Education, Matthew Opoku Prempeh, had warned against during its council inauguration in 2017.
He said, out of 4,190 students admitted, "68% are offering engineering and technology related programmes while 32% are offering business related programmes," showing that the university is committed to it's core mandate as a technical university.
He said although there has been a significant rise in the student population since the process of conversion to a university began in 2016, technical education is given priority through admission processes.
"I am happy to inform you that this year's total number of registered fresh students is the highest ever recorded in the history of this university."
Among the matriculants were 7 international students and 19 hearing-impaired students who have been provided interpreters through the university's Disability Support and Services Unit.
Prof. Eshun encouraged students to take advantage of the institution's compulsory industrial attachment programme to gain relevant working experience to enable them embark on their own entrepreneural activities since ready jobs are not guaranteed for graduates.
ABOUT TTU
Established as a government technical institute in 1954, Takoradi Technical University, formerly, Takoradi Polytechnic, was converted to a university following an Act of Parliament in 2016.
Currently, it has five faculties, namely, Applied Arts and Technology, Built and Natural Environment, Business and Management Studies, Applied Sciences and Engineering, which offer various programmes from non-tertiary, Higher National Diploma (HND) to Bachelor of Technology (BTech).
In 2017, the university admitted its first batch of graduate students for Master of Technology (MTech) programmes.