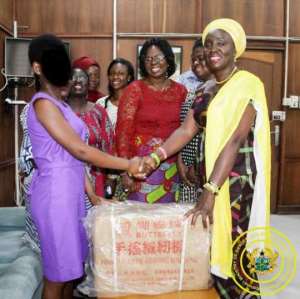 A 16 year-old girl, rescued from child marriage, Friday, received a sewing machine to help her accomplish her dream of becoming a dressmaker.
Madam Gifty-Twum Ampofo, the Deputy Minister for Gender, Children and Social Protection, presented the machine, which was bought through the efforts of the Bibir Ghana NGO.
This comes to fulfil the wish of the girl, who was rescued by the intervention of the Helpline of Hope Call Centre of the Ministry, last June.
She desired a personal sewing machine to aid her to pursue her vocational skills training.
The Girl in Need Foundation and the Centre for Development Initiative are paying her fees following her enrolment at the South La Girls Vocational School. Making the presentation, Madam Twum- Ampofo expressed her gladness over the successful rescue mission carried out by the Ministry.
'The Ministry has saved a life, a hope, and a dream from being lost,' she said.
The Deputy Minister said she was also relieved because of the expression of courage and willingness of the victim to get back to school and make something great out of her life.
She encouraged her to work hard and become a role model to girls who may also become victims of early child marriage.
'Be determined in your heart that, one day when someone gets into where you found yourself, you are going to be a role model and a mentor for that person to get out,' she advised.
She asked her to work so hard that one day she could offer another victim an industrial machine to transform her life, emphasising that she should, therefore, shun bad company.
Madam Twum - Ampofo expressed her gratitude to the NGOs - The Girl in Need Foundation, Centre for Development Initiative, and Bibir Ghana - for their support.
Present at the meeting were Heads of the Social Protection Directorate, Domestic Violence Unit, and the Helpline of Hope Call Centre.
The girl was forcefully given into marriage to an old man, a herbalist, from whom her mother went to seek for traditional medical attention.
GNA