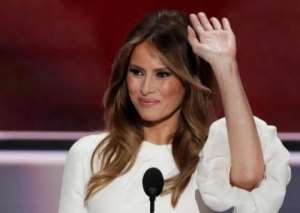 On her maiden trip to Africa this week, US First Lady, Melania Trump, is expected to touch down in Accra by Tuesday 2nd October, 2018.
Other countries she would be visiting include Malawi, Kenya and Egypt.
Melania Trump has a real opportunity to bring much needed world attention to alleviating poverty and improving the lives of children on this first time African trip.
First Lady Mrs Trump, will use her visit to promote her "Be Best" Child Welfare Initiative throughout Africa.
The "Be Best" initiative was launched earlier this year to focus on overall child well-being, with an emphasis on opioid addiction and online behaviour.
The countries on her itinerary have worked closely with the U.S. Agency for International Development, which is helping to organize the trip.
"Whether it is education, drug addiction, hunger, online safety or bullying, poverty or disease, it is too often children who are hit first, and hardest, across the globe," Mrs. Trump said.
"Each of us hails from a country with its own unique challenges, but I know in my heart we are united by our commitment to raising the next generation to be happy, healthy and morally responsible adults."