ICI Impacts Lives At Afreseni Through Education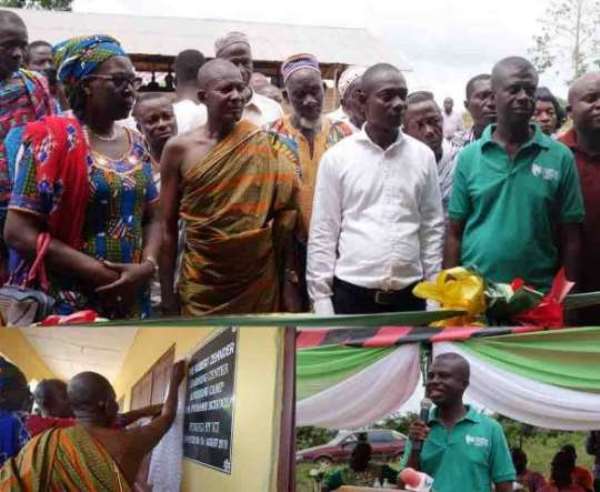 The International Cocoa Initiative (ICI) as part of its commitment to promote the rights of children in cocoa growing areas, has spearheaded the establishment of a school at Afreseni, a farming community in the Ahafo-Ano South District.
Children from the community had over the years been trekking a round trip of 12 kilometers to attend school at Mankranso, the nearest community with a school.
The younger ones who could not trek had to wait until they were old enough to start school thereby delaying their enrolment.
The situation had also resulted in truancy among children in the community who most often would not go to school due to the distance.
Upon entering the community in 2015 to roll out its intervention programmes towards promoting child-centered development, ICI saw the need for the establishment of a school as part of efforts to discourage child labour.
It therefore engaged leaders of the community on the possibility to start a school in the community to address the age long problem.
Members of the community in collaboration with the Community Child Protection Committee (CCPC) set up by the ICI responded to the call and put up a temporary structure which accommodated children between Kindergarten and primary two.
Mr. Mike Arthur, the National Coordinator of ICI, at a colourful ceremony to inaugurate the building applauded the people for their prompt response to the establishment of the school.
He said the commitment demonstrated by the community towards educating their children encouraged ICI to build a three-unit classroom block with office, store, staff common room and sanitary facilities.
Mr Arthur said educating their children was a valuable investment which would yield huge returns in future and urged them to make it their topmost priority, urging them to own the facility by ensuring proper maintenance and cordial relationship between them and authorities of the school.
The school which was initially run as a private school with the community paying for the services of teachers was absolved by the Ghana Education Service in 2016.
It was co-funded by Nestle with technical support from the works department of the Assembly which supervised the project.