Santiago Shuts Down Bogoso With His Finish Line Party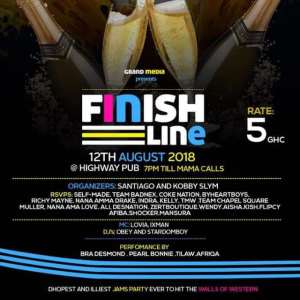 Highway Pub and Night Club in Bogoso, Western Region came alive on Sunday August 12, 2018 when event event Lords Grand Media, organized the Finish Line Party.
It was a night which played host to the lots of VIPs from Accra, Takoradi, Tarkwa, Kumasi, Prestea and celebrities including Bra Desmond, Afriqa, Prince Arde Jnr, Jamba Wan, Nana Osei a.k.a 2ic, Bright, Wendy, Shocka and Nana Ama Love.
Other groups present at the event included Coke Nation, Self Made, Byheart Boys, TMW, Zert Nation, Richy Mayne, Team Chapel Square and several others.
It was a spectacular night as patrons celebrated with all kinds of Alcoholic and non alcoholic drinks, whiles dancing to great mixes from Western's finest disc jockeys DJ Obey and Stardomboy on rotation creating and maintaining the party mood dishing out back to back hit songs from various artiste.
In his remarks after the event, Santiago (CEO of Grand Media) was full of appreciation to all the patrons on the night.
"I want to say a big thank you to my sponsors Highway Pub, Zert Boutique and everyone who showed up because they could have been at any part of the world but decided to be with me and I feel very honoured. Finish Line Party has come to stay and it will be bigger and better next year.