Aker Energy Ghana awards drilling contract of its offshore wells to partners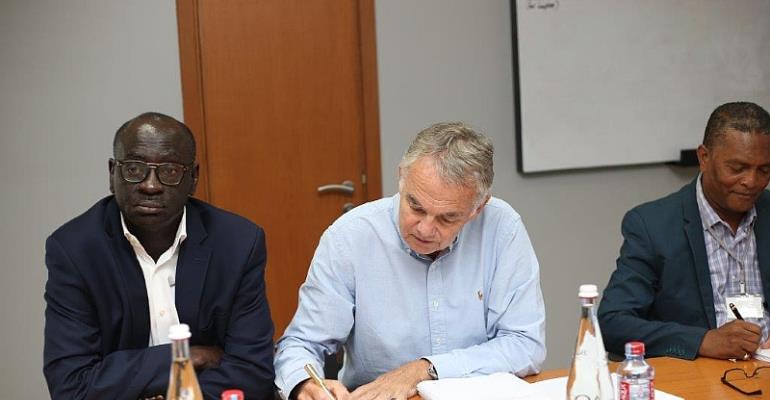 Aker Energy Ghana Ltd, a subsidiary of a Norwegian oil firm engaged in exploration and production of oil, has awarded drilling contract to its partners for drilling of its offshore wells in Ghana.
"On behalf of the license partners and as the Operator of the Deepwater Tano Cape Three Points (DWT/CTP) block offshore Ghana, Aker Energy has entered into contracts for the drilling of the Pecan-4A appraisal well due to spud in the fourth quarter of 2018.
The contracts were formally awarded to Maersk Drilling, PMD Viking Ghana Limited, Halliburton Ghana Limited and Exceed Well Management Ghana Limited"
A statement issued and signed by the company noted that the signing ceremony took place in Accra, Ghana.
It was attended by representatives from the main office in Oslo on videolink, according to the organization.
DRILLING IN ULTRA DEEP WATER
"We are pleased to achieve this key milestone that will enable us to commence drilling of the
important Pecan-4A appraisal well. The main objective of the well is to test the extension of the Pecan Field. This will provide valuable and important input in optimising the Plan of Development for the field and in understanding the wider potential of the block," said Mr. Jan Arve Haugan, CEO of Aker Energy.
The drilling contract with Maersk Drilling, the organization observed was for one firm well, Pecan-4A, and two optional wells.
The deepwater drillship Maersk Viking, the company emphasized will perform the drilling in a water depth of 2,674 meters. "The
drillship, built in 2014 with state-of-the-art facilities and systems, is currently in the Gulf of Mexico and will imminently set sail from the US to Ghana for operations to commence in Q4 2018".
The statement added "Maersk Drilling is very pleased to support Aker Energy and the license partners, building upon our operational track record in Ghana and our strong relationship with the Aker Group. The contract for Maersk Viking marks our third rig operating in Ghana. We have a strong commitment to local job
creation and competency development and our joint venture with Prime Meridian Docks, PMD
Viking Ghana, will be providing local services in connection with the operation," said Mr. Morten
Kelstrup, CCIO of Maersk Drilling.
SERVICE CONTRACTS
Aker Energy has also entered into other contracts relating to the drilling campaign.
These contracts, the statement indicated
include an agreement with Halliburton Ghana Limited for provision of drilling support and well services to Aker Energy.
In addition, a contract for well design and management was agreed with Exceed Well Management Ghana Limited.
The globally renowned oil and gas suppliers have teamed up with indigenous Ghanaian partners in accordance with regulations and with a clear ambition to develop local industrial capacity.
"We look forward to working on this project and the opportunity to collaborate with Aker Energy
and Maersk to engineer solutions for the development of the Pecan Field," said Mr. Shannon.
Slocum, Senior Vice President of Eurasia, Europe and Sub-Saharan Africa for Halliburton.
"We have a long history in Ghana and have invested in establishing a new local joint venture, Exceed Well Management Ghana.
We look forward to supporting Aker Energy and their partners and believe there is significant potential to develop local capability to exploit new deepwater fields offshore Ghana," said Mr. Ian Mills, Managing Director of Exceed.
Aker Energy is the operator of the DWT/CTP block with a 50% participating interest.
Aker Energy's partners are LUKOIL (38%), Ghana National Petroleum Corporation (10%) and Fueltrade (2%).
Aker Energy Ghana Ltd., is a subsidiary of Norwegian-based oil exploration and production firm, Aker Energy AS.
It is the operator of the Deepwater Tano Cape Three Points block ("DWT/CTP") with a 50 percent participating interest in the license.
Aker Energy aims to become the offshore oil and gas operator of choice in Ghana.
The company benefits from the Aker Group's extensive track-record within the oil and gas industry around the world, and its proven project execution, technical and subsurface competence and ability.
Aker Energy is now operational with offices in Oslo, Norway and Accra, Ghana.
Aker Energy is envisioning to go beyond local content and share knowledge and experience to strengthen the local oil and gas industry in Ghana.
Source: Daniel Kaku