National Service Personnel Commissions Borehole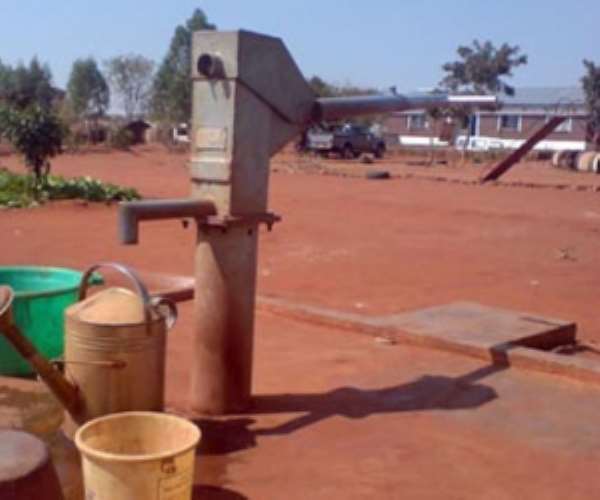 The 2017/2018 batch of the National Service Personnel with the Ghana Grid Company Limited (GRIDCo) have constructed and commissioned a borehole for the Sumbrungu-Abaadoone Community, a suburb of the Bolgatanga Municipality in the Upper East Region.
The GH¢ 14,500.00 facility was a response to a news publication by A1 Radio; a Community Radio station based in Bolgatanga which highlighted the plight of the community in accessing potable water.
For several years, the Sumbrungu-Abaadoone Community, with a population over 550 and its environs has no access to good drinking water and the situation got worse when the only well they depended on dried up during the dry season.
The residents then had to travel long distances in search for water for domestic use and feeding of their animals.
Early this year, Mr Elias Ayimbila Apasiya, a community activist, led a group of women to make their grievances known to the public and solicit support through the community radio station on several occasions.
The facility was initiated by graduates undertaking their one year mandatory national service with GRIDCo and the idea was supported by the Company to bring relief to the rural community.
Handing over the borehole to the community at Abaadoone, Mr Abraham Doku, Senior Electrical Engineer and Maintenance Supervisor of GRIDCo, Tamale, who spoke on behalf of Mr Bismark Anane, the Area Manager, said the Upper East Region was chosen because it has not benefitted from the previous projects.
He said access to quality potable water was a necessity, a human right and a move towards achieving the Sustainable Development Goals.
The Senior Electrical Engineer admonished the general public to cultivate the habit of giving back to society especially rural communities where poverty is endemic.
Mr Robert Yartey, the National President of the GRIDCo Service Personnel, said the group received financial and logistical support from the company and expressed the hope that the facility would help solve the perennial water crisis in the area.
Mr Victor Apomina, Assemblyman for Azorebisi Electoral Area, where the Abaadoone community is located, expressed gratitude on behalf of the residents to the Service Persons and GRIDCo for the kind gesture.
The Assemblyman disclosed that there were about 10 communities or clans under his jurisdiction and most of them were challenged with water problem and appealed to other institutions and groups to come to their aid.
He urged the youth in the area to emulate the example of the National Service Persons and develop the habit of giving support to communities.
The team further presented some used clothes and shoes to the community. They have in addition to providing the borehole constructed a four room bathhouse for the boys' dormitory of St. Benedict Senior High School in Navrongo in the Kassena-Nankana Municipality.