Bekwai Court Sentenced Four Illegal Miners To 15 Months In Prison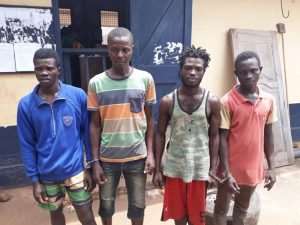 A Bekwai Circuit Court in the Ashanti Region has sentenced four persons to imprisonment with hard labour.
The four; Yaw Appiah, 22, Yaw Aning, 28, Simon Nsoh, 40 and Hamidu Sulamana,19 were arrested by a patrol team from the Bekwai Forestry Commission for mining in the Jeni Forest Reserve near Manso Essumenja in the Amanse West District of the Ashanti Region.
The prosecutor, Detective Inspector Stephen Ofori told the court the suspects admitted in their caution statement that they were undertaking illegal mining in the forest reserve.
The Court presided over by Frederick A.W.K . Nawurah sentenced the four persons to 15 months each with hard labour.
Bekwai District Forestry Commission Manager, George Agbenoshie said his team will not relent in fighting illegal mining activities in the area.
"This should be a very strong warning to people who destroy the forest reserves that we will not relent in our fight against such activities. We want to use the opportunity to advise the general public that we have to protect our forest reserve. We need to protect the reserves so that posterity will also have the benefit of it. The forest serves so many purposes, and therefore this forest is very much important", he said.
He called commended the Police and the Judiciary for helping in the fight against illegal activities.
George Agbenoshie also called on chiefs and other stakeholders to support the Forestry Commission to stop people who destroy the country's forest reserve.