Dr. Nyarkotey Obu Shocked Mourners At Doryumu With His Tribute….Read His Full Tribute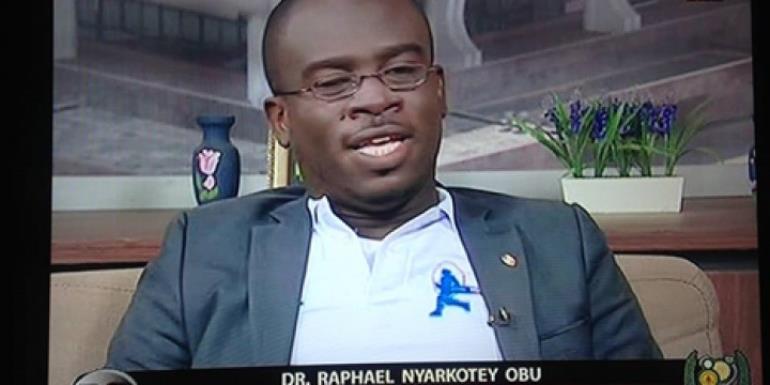 Kenney Rogers in his song Coward of the country: "Son, my life is over, but yours just began"
Promise me, son, not to do the things I've done. Walk Away from Trouble if you can.
It won't mean you're weak if you turn the other cheek.
I hope you're old enough to understand
Son, You don't have to fight to be a man"
Your children will not pretend to act as saints in the public image to deliver a 'soft spot' tribute! We are aware that things fell apart between us which could have been savage by the family, but rather unfortunately, they paid a deaf ear to it. Our intelligence was underestimated and "the flock was left to graze by themselves"
We know our tribute today could be the bedrock or the turning point to save many families in the Dangme land. We acknowledge the fact that we had father-and-children relationship challenges with our daddy, but never did we anticipate your unexpected demise.
It took the intervention of Aunty Deide to convince OBU to finally visit OGA at the hospital. I was awe-stricken and perplexed to see the pain you went through at the Hospital. On that very faithful Saturday when I finally decided to help save the situation, I had a dream in the night:
In the dream, I saw a burning bush containing my brief case full of documents. Initially, I bypassed it and was told to go back to save the documents. I finally decided to save the documents; I tried my best but realized I had lost some part already. I woke up, prayed about this dream and the prayer was intensified and seeds sown on the Sunday at the Holy Ghost Temple of the International Central Gospel Church, Adenta-Fafraha.
Then on Monday morning, I received the call that you have passed on. It further drew my attention to the dream I had to save my documents in the burning bush. The question: why would I sit unconcerned to lose my documents instead of saving it first? The documents were lost because the foundation was broken.
Your death though sad and painful, has thought your children some important and diverse lessons:
To pay attention to little issues and not become like the boiled frog.
A lesson to pay attention to our future children's concerns.
A lesson to marry one wife.
A lesson to avoid divorce in the near future.
So though you are gone and many are those crying after your death, it is rather a time to reflect on our family relationship. It is time for parents to review their relationship with their children and amend it. To me, though our problem had to be your responsibility as a Dad, it was a blessing to me! It made me have a close relationship with the Lord Jesus Christ at the Holy Ghost Temple and I constantly depended on him because I knew my poor background and he did not disappoint me.
Others get shattered and go wayward when they lose their Dad. For us, we have a higher Father who will not disappoint us!
A father who is unchangeable.
A father who is our CCTV.
A father who is unshakable
A father who will not allow the enemy to rejoice and destroy us because you are gone.
And a father who makes a way where there is no way.
A father who indeed proved to us that our DNA was not our destiny and with him your children are secured!
A father who proved to us that our fate is not tied down to the very day your sperm fertilized our mother's egg. It was only a roadmap and we have control over our DNA. God came into our DNA– our genes; to redirect it.
This is the kind of father your children have and he will not scheme to destroy our children because he is our foundation. He is not like a man who will scheme to destroy your children. Your death is rather a challenge to us, but we are rather strong because:
In an ancient Shaolin Temple, a novice monk was thinking about quitting. He was tired of his fellow monks laughing at his Kung-Fu skills. Every time he made a mistake, they would take great pride in pointing it out and reminding him that he was not good enough. He packed his bag and went in search of his Master to bid him farewell. When he got to the Master's chamber, there was a cup of water and two small bags of salt on the table. The old man emptied one bag of salt into the cup of water and asked the novice to drink it. The boy took one sip and spat it out. The old man smiled and stroked his beard. "How does it taste?" he asked.
The boy wiped his mouth and replied, "Very bitter, Shifu". The master then took the boy down to the edge of the lake. He emptied the second bag of salt into the lake and asked the boy to drink from the lake. "How does it taste?" he asked for the second time. "It tastes fine, Shifu", was the boy's response. The master patted him on the shoulder and said, "When people doubt you, it is like pouring salt into water. How it affects you depends on whether you are a cup or a lake. Like the story, in my life, those were the people who doubted whether you gave birth to me after they heard of your death but these are your children.
Life is about 100%. 10% is about what happens to you in life and 90% is how you react to it. So mourners, if we define our capabilities based on other people's expectations, then we will never be bigger than cups. But if we set our own expectations higher than what the world sets for us, then we will always prove our critics wrong. Cup or lake, the late Michael Nyarkotey Obu (OGA), your children have decided to live life at the 90% and not the 10%.
10% is what you have taken away and 90% is what we are depending on-The Lord Jesus Christ! The author and the finisher of our fate control the greater part!
Though you are gone, that was the same mistake the enemy made over two thousand years ago when he thought he had killed Jesus. The death of Jesus rather paved the way of the spread of the gospel. This is the same mistake he has made again, thinking it will end your children's dreams and disgrace them. But he has made a very big mistake because the song writer Sinach in her song REJOICE:
"It doesn't matter what comes my way
The greater One lives inside of me
His name is Jesus, I'm born a winner
More than victorious, I'm a heir of the kingdom
Filled with the Holy Ghost
I rejoice in Him
More than a conqueror.
No weapon formed against me
Shall ever prosper"
Your Children have really opened their eyes. But we derived our motivation from Mathew 7: 6, "Give not that which is holy unto the dogs, neither cast ye your pearls before swine, lest they trample them under their feet, and turn again and rend you."
Today, wherever you are, you are in a better position to judge or see things for yourself. You are in a better position to tell where we all went wrong. Today, you are in a better position to judge whether the critique of your children were right or wrong. You are in a better position to tell that they have only heard your son's name (Dr. Raphael Nyarkotey Obu) in the media but they don't know my story and that was the case when you were alive! Today, you are in a better position to say why someone would wish us to fail when they don't know our story! Never did we even hear you cursed us though the relationship went bad!
Because, a vision without provision leads to revision of the vision and most of us have revised our vision because, when we had the vision, to do it in the Dangme land, because of some entrenched situations; we were unable to do it. But with God on our side, we did not revise our vision.
One thing we know for sure about you is that: you are a free minded person! You never wished evil for anyone or anyone else's son. Before your death, you didn't know your son (Dr. Raphael Nyarkotey Obu:PhD ) the multiple Awarding young Research Professor of Prostate Cancer & Holistic Medicine-Da Vinci college of Holistic Medicine, Larnaca city, Cyprus.
Like so many outsiders who did not and still don't. It is all about guess work and no one believes it can be possible because of stories they have heard and where we come from but there is only one Man and when he enters your life he changes destiny. The Lord Jesus Christ! So your son's story is akin to the story in John 9:9-11 :
"9 Some claimed that he was. Others said, "No, he only looks like him." But he himself insisted, "I am the man."
10 "How then were your eyes opened?" they asked.
11 He replied, "The man they call Jesus made some mud and put it on my eyes. He told me to go to Siloam and wash. So I went and washed, and then I could see."
Today, your children can see clearly because they have found Jesus!. Till we meet again and forgive us if we wronged you. I know when we meet again you will be happy for us preserving the name Nyarkotey Obu. This is your children personal philosophy in life originated by my brother Daniel Dei Mensah that:
The future you picture is the future you will feature, the 'YOU' you see is the 'YOU' you will become. Therefore picture a great future to feature and desire a great 'YOU'.
The Almighty God will see to it that you have featured in the future you pictured and you have become the YOU" you desired.
Fare Thee Well!