So Far So Good With Joshua Alabi Solution 2020 Campaign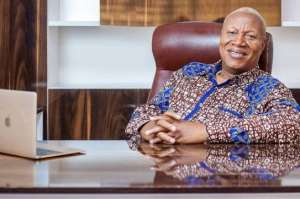 From the very beginning, he was insulted, denigrated, called names but he wasn't bothered and focused on his message. Throughout his campaign, Prof Alabi never made direct or indirect reference to any of his opponents except for positive remark yet his detractors made it look like he was always out there attacking ex president Mahama.
Thank God Alban Bagbin started talking. Alabi became an instant angel even in the eyes of his worst enemies. Indeed everything happens for a reason. May God bless you Joshua of our time.
It is not juju; it is not bragging; it is not about money. Prof Alabi has a good message, an enviable track record, an excellent strategy and an admirable personality. These are the things he has been presenting to the gallant delegates since he began offering himself as the new hope for the NDC. He knows what we need to win 2020.
Alabi has pledged to revive the branches of the party, empower the constituency executives and put the party at the centre of governance. Yes, with Prof as his admirers simple calls him, the party will work again. We will see a newer and stronger NDC under his leadership.
I will urge Prof to continue his good work. He should continue to stay in touch with the grassroots. Whoever stays with the grassroots will be rewarded by them. Enough of the funfairs. The NDC must choose a true leader. We must choose Prof Joshua Alabi as our next flagbearer.
Efo Delali Saviour
NDC Activist