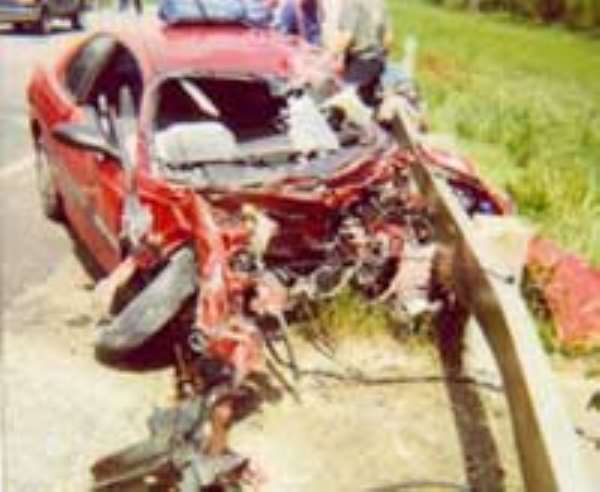 Gomoa Okyereko (C/R) Oct. 8 GNA-Five people were killed on the spot and 10 others seriously injured when a 207 bus and a Taxi cab on which they were involved in a fatal accident near Gomoa Okyereko on Saturday. Mr. Nicholas Gasu, Winneba District Police Commander, who disclosed this to the Ghana News Agency in an interview at Gomoa Okyereko said the Taxi cab was travelling from Accra, while the 207 was also heading towards Accra.
Mr. Gasu said the Taxi was making U turn on the main road and in the process the 207 ran into it, killing all the four on board including the driver.
Mr. Gasu said the dead had been identified as Emmanuel Amuzu, aged 21, driver of the taxi, Isaac Nartey-Nunoo, 22, Fred Agbo and Richard Dumashie all on the taxi.
He said one person who also died from the 2007 has not yet been identified According to the police commander the injured persons are responding to treatment at the Winneba government hospital, while the bodies had been deposited at the hospital's mortuary for autopsy. Mr. Gasu has expressed concern about the increasing rate of accident on the Winneba-Kasoa road recently and pointed out that an accident that occurred last Saturday claimed the lives of five people and injured five others.
He appealed to drivers to be patient and careful on the road to save lives, adding that, the police would start an operation soon to arrest drivers committing traffic offences to help reduce accidents on the road.