GUTA Stands Down After Clash With Nigerian Traders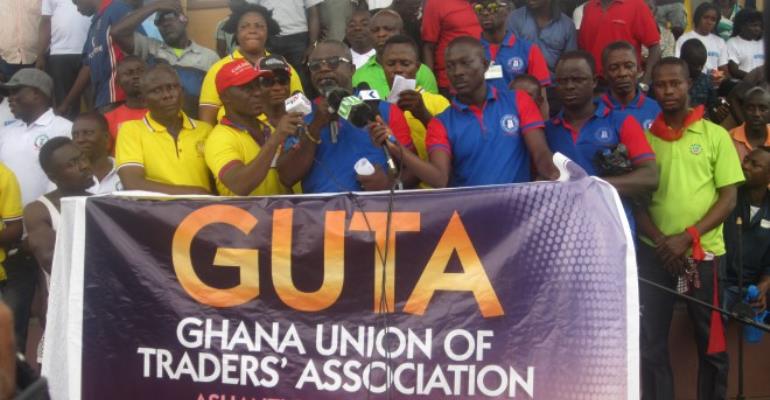 President of the Ghana Union of Traders Association (GUTA), Dr. Joseph Obeng has stated that they have stepped down their plans to stop Nigerians from trading in the retail market in the Ashanti Region.
Last month, some unidentified traders believed to be members of the Ghana Union of Traders Association (GUTA), closed down more than 30 shops belonging to Nigerian businessmen in the Suame business enclave in Kumasi, alleging that the Nigerians engaged in retail trade in contravention of the law.
Chief Kizito Odiora, the Public Relations Officer of the Nigerian Union of Traders Association (NUTA) in Kumasi explained that all of them paid Internal Revenue Service (IRS) and Value Added taxes and paid the Social Security and National Insurance Trust (SSNIT) contributions for their staff. Hence they can trade in the country.
However, after extensive engagement with relevant agencies, GUTA has agreed to cooperate and allow the right agencies to enforce the laws of Ghana rather than taking it into their own hands.
According to the President of GUTA Dr. Joseph Obeng, they took the action in the interest of the Nation.
Dr. Obeng observed that there were are lot of confrontations and near havoc situations in Suame before the National Security intervened. He stated that they had to talk to the Presidency on the matter as well as the committee that was set up before coming to the conclusion to stand down.
He further disclosed that they have given assurance for shops to open before institutions start working on Wednesday. Despite the assurance, the GUTA president cited that even though his people have agreed to it, it will all depend on how quickly task forces go to Kumasi and work.
Addition, Dr. Joseph Obeng revealed that after the number of clashes with the Nigerians they looked into their members and found out that some of the foreigners are duly registered and had the right to trade in the country,
"We also talked with the Nigerian Association themselves and then they wanted us to make some concessions and fortunately they found out that some of their members have duly registered", he said in an interview on Class FM.