Volta Regional Hospital Gets Support From Pentecost Youth Ministry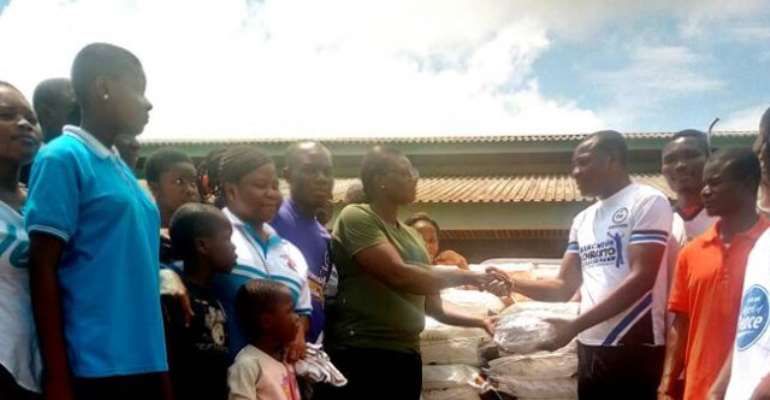 The Youth Ministry of the Church of Pentecost, Mawuli Estates in Ho, as part of its national week celebration, has donated items worth 2000 Ghana Cedis to the Volta Regional Hospital.
Items donated include 30 pieces of the bedspread, 10 pieces of pillows and 30 pieces of pillowcases. The rests are four gallons of detergents mop and mop buckets, and sweeping brush.
Earlier, the Youth Ministry engaged in a clean-up exercise on the premises of the hospital and later shared prayers with patients on admission.
Youth Leader of the Church of Pentecost PIA, Pentecost International Worship Centre, located at Mawuli Estates in the Ho Municipality, Maxwell Jenkins Gbemu told Joy News the gesture was in line with biblical instructions which exhort Christians to care for the sick.
Drawing an analogy from the Bible, Mr. Gbemu said the principle of love which cuts across all divides and is nondiscriminatory has served as the basic motivation for the gesture.
Receiving the items on behalf of the Management of the hospital, the Human Resource Manager, Francisca Sitsofe Afornu, expressed gratitude for the gesture and called for more public support in that direction to ensure the holistic healthcare for patients in the hospital.
According to her, benevolent activities of this nature do not only assist the hospital, but also assure patients that they are in the thoughts of others.
A member of the National Executive Committee of Youth Ministry of the Church of Pentecost, Makafui Nyamadi said the youth week which is being celebrated worldwide, is to steer the youth back to Christ.
He bemoaned the spate at which the youth are being controlled by the desires of the flesh, rather than the Spirit man.
He advised Ghanaian youths to eschew habits that will not augur well for the future of the country.
The Youth week celebration which themed: remain in the anointing, is based on 1John 2: 22-27.