Ermea 2018: Nana Adjei Sikapa Nominated Blogger of the Year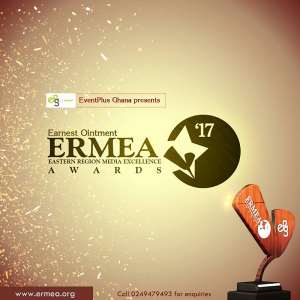 Nana Adjei Sikapa Stephen, a blogger on bestghnews.online, mynewsghana.com and a columnist on modernghana.com have been nominated blogger of the year in Eastern Region Media Excellence Awards (ERMEA).
The young hardworking broadcaster and a blogger in the Eastern Region have been recognized by the organizers of the Eastern Region Media Excellence Awards, granting him blogger of the year nomination.
To enable Nana Adjei Sikapa crowned blogger of the year, kindly text ER BL3 to short code 1903. Voting can be done via all networks and it is acceptable for a single person to vote unlimitedly since there aren't limitations to voting.
The organizers of the 2018 ERMEA, EventPlus has said to determine on 70 per cent of public votes and 30 per cent Academy Board Decision.
This year's Eastern Region Media Excellence Awards (ERMEA), which is also the second edition of its kind will be held on Saturday, August 18 at the Eastern Premier Hotel in Koforidua of Eastern Region a 7:00 PM.
Voting ends on Thursday, August 16, 2018, so keep on pushing more votes for Obiba Nana Adjei Sikapa to win him, Blogger of the year, since he is the best among the other competitors.
Just text ER BL3 to 1903. You are done voting but don't forget to vote as many as you can.