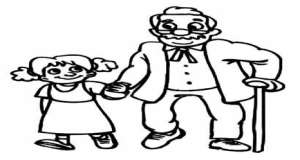 I am very enthused to articulate a fond memory which is remembered intermittently after death has conveyed our grandparents to the much anticipated 6fts in some households of Ghana. We (Yolacem) carried out a survey here in (La, Accra) after grouping 20 people and presented them with a questionnaire enquiring the status of their grandparents; it is either grandma is alive and grandpa is dead and the reverse is true, or both are dead. The chances for both of them being alive are hollow. Our targets were adults of 18yrs and above but not over 25yrs, insinuating that their grandparents are respectively within the age intervals of 60-75 years. Conclusively, not all of us would grow to meet our grandparents but if destiny presents us with that opportunity we must not be callous. The best of love that is scarcely available is one which our lovely grandparents exude.
A granny ensures that her granddaughter learns womanhood; growing up as a career woman and to be elegant with her wardrobe and at the kitchen, get baptized with rectitude and being coached to espouse timidity in the presence of the opposite sex. Granny, however, has the meekness of heart; even at our worst behaviour, she would never allow us to be flogged. Call it Pampering. And she seems to have got it all; at her best when she shows an ardour if one's biological mother is away, in a narrowest time of divorce or untimely death; grandma's breast if sucked, its the best. She works so aberrantly to ensure that we meet the purpose of life. It is very rare to witness a baby crying in granny's arms. There is no need to accentuate that their arms are indeed cooler than air-condition.
Without stinginess, our grandfathers also pay well; they are the cash cows in the family. If his grandson gets involved in any altercation or had unintentionally misplaced his fees at the high school level, it is grandpa who would get the unbridled issue under restraint. The feeling you get when grandpa bequeaths some portions of his belongings to you at a tender age is immeasurable. Oh, they are full of compassion. Perhaps, they are truly the best of teachers in this life after what is known as experience, I trust you would defiantly concur.
A very rational young engineer called faiaz Arbarb, got to know that her granny felt from the wheelchair the night before. He was so despondent to the narrative and as a result of that he mirrored how her granny is been subjected to the whooping predicaments of old age. He came up with an ideal and developed Pakistan's first smart wheelchair called 'GOBEE', which is controlled by a mere remote and a phone app, to make mobility so simple for his granny whenever his away from home.
This shows that he has fathomed how well his granny took absolute care of him when he was a toddler and thus, he needs to use his engineering prowess to salvage the predominant woes of old age, not to his granny alone but to the benefit of the entire globe when mass production starts pretty soon.
In review, when the coin is flipped, upon all the efforts they had tailored on our path, if we (the youth of today) become matured and successful in life, little do we do to pay back all that they had rendered to us. We now become westernised and pretentious of being nuclear to evade family taxation; the extended family looks outmoded to us. Whenever they speak, we consider it as a lofty load and thus apathy. If they mention our names repeatedly, we frown and pay back with an impudent retort; "granny, what at all is the problem"? Similarly in that order, some of us with the wherewithal would package and convey them nicely to old-age-homes for them to be taken care of or the help of a servant is sought, but sadly, they are frequently consigned to all sought of barbaric and heinous treatments.
This had been the trend now; if we are not perpetuating it already then we are on the verge of getting it done just in the niche of time. Anyway, our (grandparents), are they expired goods? Do they look like obsolete tools? Can you describe them as quasi partners in our life? I would be waiting for your answer, but if your response is negative then affirm your thoughts that being frequent at their service after you have grown big is all that they are importuning for. Meeting yours alive is a Godly privilege. Keeping them as a bosom friend is a selfless divine intervention. And coddling them in similitude of how they showed humility to you defines maturity if you place their needs as the topmost priority on your scale of preference. Let the muscles you have built today, of which you are now nicknamed as a 'macho man' not be used for only policing ballot boxes from morning to evening and defending policies that are indefensible, under the pretence of keeping political trust and servitude, all to return home and then feed your granny with a wooden plate, this is a contagious disease which was transmitted by modernity some few decades ago.
Sage of old is that misfortunes do not come only to slaves. Never wait after their demise before you would start blaming yourself for not being caring and astute in meeting their demands. And our ancestors admonished us that when your neighbour's beard is on fire, you look for water to keep yours wet.
It shall be thy turn very soon; the earlier the better.
Visit [YOUTHOFLACENTRALMOSQUE.WORDPRESS.COM/ YOUTHOFLACENTRAL.FACEBOOK.COM] for more...
© Abdur Rahman Odoi Anum Pobee
[[email protected]]
Copyright © 2018. Youth of La Central Mosque, all right reserved. Permission is hereby given to circulate this write-up or any portion of it on other media platforms by strictly referencing the Blog or YouthOfLaCentralMosque without omission, interpolation or addition.