WACCI Urges Increased Investment In Agric Research As It Graduates 14 PhDs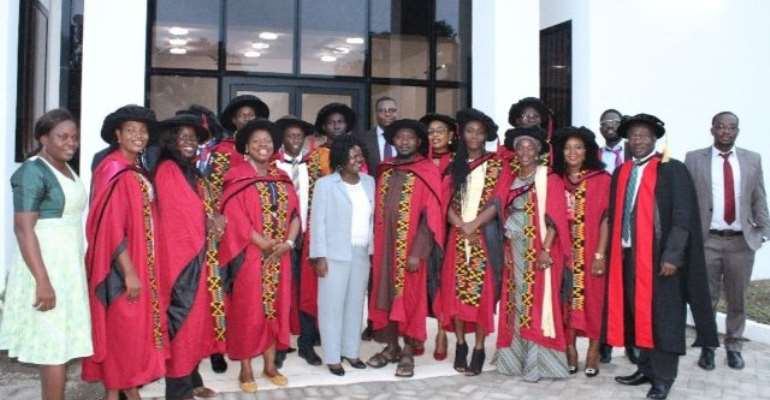 Founding Director of the West Africa Centre for Crop Improvement (WACCI) is calling for increased investment in agriculture to help ensure agriculture on the continent flourishes.
Prof. Eric Danquah says institutions like WACCI which is a centre at the University of Ghana are at the core of Agric transformation on the continent and deserves support.
"I call upon African governments and development partners to prioritise institutions like WACCI for sustained core funding if they are desirous to transform agriculture in Africa, for agribusinesses cannot flourish in the region if development initiatives are not underpinned by science and technology," Prof. Danquah noted.
"The centre continues to produce the much-needed human resources who are at the forefront of agricultural transformation and plant breeding activities across sub-Saharan Africa," he added.
He was speaking to the media at the graduation ceremony for 14 PhD students and eight MPhil students from Ghana, Burkina Faso, Mali, Niger, Nigeria, Sierra Leone, Senegal and Uganda.
They researched cassava, cowpea, groundnut, maize, pearl millet rice and sorghum with an aim to address farmers' production constraints in their home countries.
WACCI was established as a partnership between the University of Ghana and Cornell University, USA in 2007 with initial funding from the Alliance for Green Revolution in Africa AGRA to train plant breeders in Africa to transform of agriculture for food and nutrition security.
Now one of the World Bank's Africa Centres of Excellence, the institution has grown to become the pre-eminent centre for plant breeding education in Africa and has more than doubled initial investments of $11.2 million to over $28 million.
The centre has since inception, enrolled 114 PhD students in Plant Breeding and 36 students in MPhil Seed Science and Technology. A total of 66 PhD and nine MPhil students will have graduated from the WACCI programme by the July 2018 congregation.
These graduates are actively leading plant breeding programmes aimed at increasing the productivity of the staple crops at the National Agricultural Research Institutes in their countries.
They have so far released over 60 improved seed varieties that are expected to boost food and nutrition insecurity in many communities throughout the sub-region as well as lift millions out of poverty in the decade ahead.
The promotion and adoption of these crop varieties, that include maize, sweet potato, rice, cassava, groundnut, cowpea and taro by farmers will increase productivity and improve livelihoods in Africa.
In Ghana, for instance, a hybrid maize breeding programme established in 2009 with funding from AGRA has led to the development and release of superior maize hybrids, with yields of up to nine to 11 tonnes per hectare.
These hybrids are being commercialised in partnership with a local seed company and are expected to be in farmers' farms from next year and will significantly increase maize productivity in the West African region.
Joe DeVries, Vice President, Programme Development and Innovation, AGRA said, "it has been a privilege to support these students and we wait with baited breath to see what fantastic game-changing ideas will emerge from these bright and forward-looking people.
"We are proud to work with WACCI and the excellence it promotes in agricultural transformation."
As part of efforts to expand WACCI's stature as a leading agricultural innovation and entrepreneurship institution that generates game-changing products needed for the inclusive transformation of African agriculture, a multi-purpose building will be completed in August 2018.
This will provide world-class research, teaching and learning facilities needed to attract strategic partners from around the world to make WACCI a preeminent global institution for world-class agricultural research and training.
Story by Ghana|Myjoyonline.com | Joseph Opoku-Gakpo | Joy News