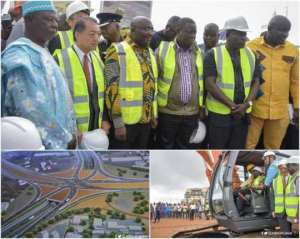 Vice President Dr Mahamudu Bawumia has performed the ceremony for construction works to begin on the grade separation of the Tema Motorway Intersection as part of efforts to ease traffic congestion in the industrial city of Tema.
The project is expected to be completed within 28 months and involves the construction of a 2.1 kilometre three-lane dual carriageway with 730-metre underpass and improvement of a 1.9 kilometre two-lane dual carriageway from Ashaiman Roundabout to the Harbour Road.
There would also be the construction of service road ramps, retaining wall and box culvert, road base and pavement, pedestrian bridges and provision of road safety furniture to save lives and property.
The Motorway forms an integral part of the Trans-Africa Highway, stretching from Lagos through Lomé, Accra, and Abidjan to Dakar, and effectively serves as the junction to the Sub- region.
The phase two of the project would see the construction of a flyover on the Akosombo-Tema Harbour Road.
The Japanese Government is providing the funding with a grant of US$55.6 million through the Japan International Cooperation Agency (JICA) and the job is being undertaken by Shimizu-Dai Nippon JV.
Vice President Bawumia said building road infrastructure was part of the government's agenda of promoting rapid economic and industrial development.
He added that the project would bolster trade and economic integration in the West African sub-region and applauded the Japanese Government for the support.
Mr Kwasi Amoako-Attah, the Minister of Roads and Highways, said it was part of the drive to open up the road connection between Accra and the port city of Tema as well as open arterial roads within Tema.
'By the time we complete the construction of this project the Tema arterial roads linking this roundabout to the ongoing port expansion being undertaken by the Meridian Port Services would have come to an end.
We are going to open up all arterial roads from this roundabout to link the port expansion project through the Tema Hospital road into a dual two-by-three lane road.'
'At the same time it will link Tema Motorway with the Tetteh Quarshie interchange in Accra, and the project is designed in such a way that by the time this particular project comes to a close the Tema motorway, as part of the Abidjan-Lagos project, which is being turned into a six- lane dual carriage highway, would have also come to an end and it has been remodelled and redesigned to take the current congestion at the Tetteh Quarshie interchange," the Minister added.
He expressed optimism that the completion of the project would ease the terrible traffic congestion at the Tetteh Quarshe interchange.