Plans To Reshuffle Cabinet?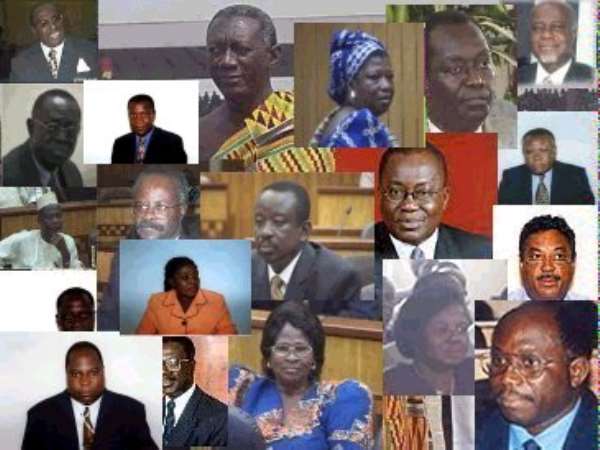 Why a resuffle may be on the cards PRESIDENT Kufuor is planning to reshuffle his Cabinet, with some of his very active aspiring successors being targeted as potential casualties. And, the news is, he desires it done before the National Congress of the New Patriotic Party in November. Now, it is mainly a question of would he or would he not gather the pluck and spunk to effect the changes?
Aides close to the President attest to his concern about the divided attention and work rate of some of his major appointees. He is said to have been particularly scathing about what he sees as the objectionable and selfish actions of some aspiring presidential candidates who have chosen to "peak before time."
Any downwardly vertical or even parallel ministerial changes for some of the aspiring candidates may be seen as "a put-down." But their boss is expected to act even more radically than that.
A close source said the President is being pushed by their own "reckless behaviour" to simply push them "out of harm's way." This means sacking a small but significant number of his Cabinet. The President, according to another senior NPP source, says his intention to reshuffle his frontbench is primarily about his concern to "maintain the forward momentum of his government." This calls for undivided attention to one's portfolio. The President had warned his men against premature peaking. Yet, to peak now is considered ideal; hence, the decision to ignore the Presidential caution. The overriding wisdom seems to be: 'Do not wait to strike till the iron is hot; but, rather, make it hot by striking.' Almost resigned to the situation, President Kufuor is said to be busily contemplating offering those ministers an opportunity for an early shower. This, after all, may serve as a win-win instrument to fix their attention and to better inflame their presidential ambition. But, there is a serious hitch. Who are you going to kick out? Some of the usual suspects are too personally close to the President for comfort, so to speak. Moreover, almost all of those actively on the ground are in charge of powerful portfolios. Arguably, that may be the more reason why they should be kicked out since winning is delivering and the President can ill-afford to have those portfolios manned with divided attention. Apart from Hawa Yakubu, all of the serious potential contenders as NPP presidential candidate are members of Cabinet. The total list can be as long as nine, however only about half of this number is very actively on the ground. Those included in the potential list of contenders are Alhaji Aliu Mahama, Kwame Addo-Kufuor, Yaw Osafo-Maafo, Kofi Konadu Apraku, Hackman Owusu-Agyemang, Nana Addo Dankwa Akufo-Addo, Dan Botwe, Papa Owusu-Ankomah, and Mike Oquaye. The Castle talk is that President Kufuor wants to ruthlessly stamp his authority on the Cabinet.
Ironically, the joke goes, with several of his Cabinet heavyweights nursing ambitions of presidential grandeur, Cabinet risks becoming worryingly yes-man like, as members may choose to hold their wise counsel for fear of offending the President and, hence, their own presidential enterprise.
But, outside of the Castle, in the constituencies up and down the country, the spikes are out and the race is on. With the flagbearer election, about two years away, several aspirers have hit the ground running fast and furiously as if it's a sprint race.
Among most of the aspiring presidential candidates of the New Patriotic Party, their mitigation for the early start of the campaign is similar to that given by several western nations accused of selling weapons to bad regimes: 'If we don't do it, the others would.' So, like a greyhound on hot bricks, they are straining at the leash.
Congruent to this is the worrying trend of more and more working time of several key Cabinet Ministers being devoted to out-pacing each other in the bid to swing the party to their respective camps.
Although rare, there are nevertheless, some ugly signs of personality spats between rivals. This disturbing fad sees various interpretations and ulterior motives being read into actions by rivals that ordinarily would have been seen as innocuous.
The dirty game, of hitting rivals below the belt, is sometimes played by over-zealous aides. Some presidential aspirers are even suspected of leaking, by proxy, uncomplimentary stories about their rivals to 'unfriendly' newspapers. The Statesman has further learnt that an extremely sensitive concern of President Kufuor is the pecuniary nature of electioneering here in Ghana. 2004, and it is far too early to launch an official campaign. This makes it difficult for the hopefuls to throw wide their funding nets.
Nevertheless, the campaign gravy train to 2008 was already on the move for some, even before the post-election reshuffle of last January. Such a race is not for the swift but for those whose deep pockets can endure. Thus, the temptation to find more and more money to keep fuelling the long-distanced campaign, it is feared, may lead some good men into some unethical temptations.
The ongoing elections of party executives from the constituency level – culminating in the national executive elections in November – have heightened the stakes. The situation has not been helped by, what one senior party source described as, "the inability or unwillingness of the party treasury to sponsor the nationwide marathon election exercise."
'The NPP does not act like a party in power.' A charge hard to defend against when a veteran UP leader like R R Amponsah travels around town today in a rickety taxi. Yet, he is likely to receive a rich state burial when he passes on to join the JBs!
The party structures are far from ideal at the constituency level. This has opened the way for individuals nursing greater personal ambitions to fund the exercise and sponsor participants with the hope of getting "my men" elected as party delegates.
Party strategists are very much aware that the NPP would first need President Kufuor to deliver on the economy. Beyond that, the party will need a candidate and a message that can sufficiently convince the majority of Ghanaians why the NPP deserves a 12-year stretch.
Notwithstanding, it remains difficult to get a man to understand something when his salary or employment depends on his not understanding it. Though, come 2007, money is not likely to be the main determining factor on who is chosen to lead the NPP into the crucial 2008 general elections, the ancient principle of one good turn deserving another cannot be lost on the sponsored delegates. While there may be some doubt as to how soon a ministerial reshuffle motivated by the race for flagbearer will take place, what is inescapable is that there will be some major casualties once the inevitable occurs.
A string of deputy ministers loyal to, what an aide describes as, "The Kufuor agenda to deliver Positive Change Chapter Two," are likely to be promoted in the event.
President Kufuor has been threatening to shuffle his ministerial cards for quite some time now. His earlier flirtations with the idea were caused more by windy attempts to stem the tide of dwindling popularity of his second government at the time. But, that could easily have been interpreted as panicky and that the President didn't trust his own judgment.
When news leaked back in April that President Kufuor was considering a 'mini' reshuffle, a Cabinet Minister ridiculed the idea as a media concoction when he met this reporter at Parliament House. He thought then the timing of the speculated reshuffle, so early after President Kufuor's second term, was a non-starter.
Government has had a speed wobble right from the ministerial vetting days in February.
'It's extraordinarily early in the government to be playing musical chairs with key portfolios,' was the feeling then. But, can the same be said of now? There is a feeling, though not backed by any empirical evidence, that some Ministers, especially the newcomers, have not been able to hit the ground running. It was as if the outgoing ministers did not put together a "to do" list for their incoming colleagues.
"There are big issues in some Ministers' intray, they've been sitting there for ages, it's about time the Kufuor Government actually did something," one civil servant said.
While some are seen as prematurely ambitious, other Ministers are said to have "failed to deliver" to expectation and a reshuffle may be an attempt to put an end to "personality spats."