Nana B Releases His Debut Book;"What I Wish I knew Before My 20th Birthday''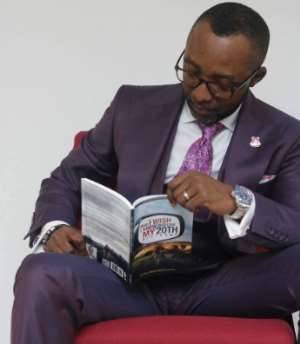 Nana Kweisi Bediako aka Nana B is a US Based Worshipper, Songwriter, Author, Producer, International Motivational Speaker and Entrepreneur. He is the Founder and CEO of Royale Worldwide Corporation; information providing servicing and consulting firm in the USA. He is also the President of the Men's Ministry of The Apostolic Church USA.
On June 10th, 2018, the author launched his debut book; entitled; "What I wish I knew before by 20th Birthday". The launching was supported by a section of the Ghanaian community and members of the clergy. Click the link here; https://photos.app.goo.gl/FDs9X1gsX2cNgph69 for photo gallery.
In this book, he deals with the question "If you could turn back time, what are some of the things that you would have liked to have achieved by now? What would you have done differently? What goals would you set?
Nana B believes one of the greatest inheritances he can leave his children is knowledge: the blueprints to a successful life and sharing his life experiences. He shares the knowledge that he has acquired throughout the years and the mistakes that he's made—which he doesn't want these younger generation to make. Nana believes most of these experiences have changed his life, and he knows it will change the life of his readers.
The book is loaded with abundant revelations and wisdom, he also teaches about the power of a changed mind, dealing with fear of failure, the beauty of wisdom, understanding purpose, potential, seed, the power of idea and imagination, creating value, how to build relationship, entrepreneurship, investment, giving, dealing with procrastination, and choosing the right job for the future.
Visit www.royaleworldwidecorporation.com
As a Healthcare Professional, his empathetic nature makes him appealing to many people and also passionate in health promoting and wellness. Nana B's calling is to build up the young generation through God's word and music.
He runs the Young Christian Professional Club in the USA; which is a mentoring program focuses on teaching and directing young people on finding their purpose. Also making the best out of their lives, and how to have financial independence.
Nana believes that, "you should always be in a position to help those in need; for God will bless you to be a blessing". He is therefore involved in many charities and spends time in some villages in Ghana providing health education, health supplies and funding the constructions of bore holes in Ghana. He believes many people have died or die every day in most poor regions of the world due to the lack of simple CPR and First Aid and therefore willing to do his part whenever he is in Africa.
The paper back and e-book are available on all book platforms including Amazon, Kindle, ITunes, iBook­store, Nooks, Sony Reader - eBook edition, Barnes and Nobles and book stores near you. You need to get your copy.