Attack on G5 force exposes 'security failings': Mauritania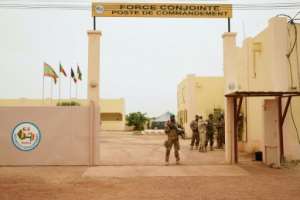 The deadly attack against an African anti-terror task force in Mali has exposed regional security failings that must be addressed, the nation hosting an African Union summit warned Sunday.
A suicide bomber in a vehicle painted in UN colours killed two soldiers and a civilian in the attack on the headquarters of the so-called G5 force headquarters in the Malian town of Sevare on Friday.
It was the first attack on the headquarters of the five-nation force, which was set up with French backing in 2017 to fight jihadist insurgents and criminal groups in the vast and unstable Sahel region.
Mauritanian President Mohamed Ould Abdel Aziz, whose country is part of the G5 and is also hosting a two-day African Union summit opening Sunday, said the bombing "hit the heart" of the region's security and lashed out at a lack of international help.
The Al-Qaeda-linked Support Group for Islam and Muslims, the main jihadist alliance in the Sahel, claimed the attack in a telephone call to the Mauritanian news agency Al-Akhbar.
'UN doors closed'
"It was a message sent by the terrorists at this precise moment when we are getting organised to stabilise and secure our region," Aziz told France 24 television.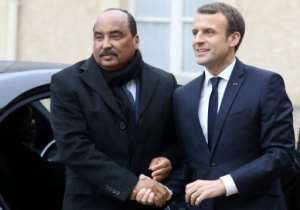 French President Emmanuel Macron is attending the African Union summit hosted by Mauritania's President Mohamed Ould Abdel Aziz. By LUDOVIC MARIN (AFP/File)
"If the headquarters was attacked, it is because there are so many failings we need to fix if we want to bring stability to the Sahel."
The G5 aims to have a total of 5,000 troops from five nations -- Burkina Faso, Chad, Mali, Mauritania and Niger -- but has faced funding problems.
It operates alongside France's 4,000 troops in the troubled "tri-border" area where Mali, Niger and Burkina Faso meet, and alongside the UN's 12,000-strong MINUSMA peacekeeping operation in Mali.
Underscoring the insecurity, four Malian soldiers were killed on Saturday when their vehicle drove over a landmine in the central Mopti region.
Aziz said the G5 was a "sovereign initiative" of Sahel states that face not only security problems but drought, poverty, unemployment and trafficking.
"We are not at all satisfied with the help we are getting. We also feel that the doors of the United Nations are closed."
Discussing the flow of migrants from Africa to Europe, Aziz said it was was a "result of the 'destruction' of Libya by Western strikes".
"I am not saying that all responsibility lies with Europe, we must deal with the problem upstream," said the former general who took power in a coup in 2008 and has since been elected twice.
Security will be high on the agenda at the African Union summit in Nouakchott being attended by more than 40 African leaders as well as French President Emmanuel Macron.