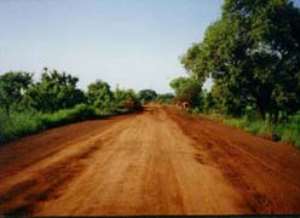 Bawku (U/E), Sept 20, GNA - Some residents of Bawku on Monday blocked the main road with stones and set car tyres on fire in the middle of it in protest over its dusty nature, bringing vehicular movement to a standstill.
This action led to most of the trucks plying the Ghana/Burkina Faso highway to abandon their journey temporarily till the deployment of the Airborne Detachment Force to restore law and order.
Some of the residents claimed that their rooms and shops have been filled with dust since the bitumen was scrapped to pave way for the rehabilitation of the road in June 2005 and that their patience had run out following persistent appeals to the assembly to speed up work. They also claimed that aside the hazards the dust posed to their health, most of them had their clothing covered with dust any time vehicles ply the road unbearable for them.
When the Ghana News Agency contacted the municipal assembly it was learnt that the 800-meter road is on contract to a local contractor, Alhaji Tanimu Dapore Contractors, but he is yet to start work. When the contractor was contacted he said the source of getting gravels to undertake the project was the cause of the delay but promised that work would soon start.