Manufacturing Sector Is Vital To Addressing Inequality In Africa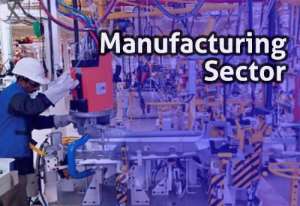 Africa's manufacturing sector presents a viable solution to the problem of inequality particularly in the labour front on the continent, says participants at the Royal Institution of Surveyors (RICS) Summit Africa 2018.
Countries with high levels of manufacturing value added (MVA) present opportunities for employment and higher equality, mentions Dr Martyn Davies, Managing Director, Emerging Markets & Africa at Deloitte & Touche, South Africa.
"African export baskets continue to be over reliant on at times a single commodity and lack of manufacturing activity. As a result, African countries were once again vastly affected by the commodity price downswing," Dr Davies states at the summit, held in Johannesburg, South Africa from May 30-31, 2018.
The RICS Summit Africa 2018 on the theme, 'Driving sustainable growth through smarter Urbanisation' is an annual summit organised by RICS, the world's leading professional body for qualifications and standards in land, property, infrastructure and construction.
The Chief Lands Officer at the Technical Directorate for Lands at Ghana's Ministry of Lands and Natural Resources, James Dadson says manufacturing is of great importance to Africa given that the deployment of technology is not very advanced, thus reliance on skill labour force.
"A lot of our industries employ a lot of hands as against some in the developed world where machines do a lot of the work. Its stance to reason that the more industries that are available, the likelihood it is that more people will be employed.
"And depending on what they are producing, they are working to make some income for other things and also, the state through taxation or exports can increase can its revenue base for economic or social value to the society," Mr Dadson states in an interview.
According to him, one of the major challenges is, "we still keep focusing on doing these things in the urban centres due to availability of labour force, infrastructure like roads, electricity or water as against the rural areas."
"There is a lot of pressure and urban centres are becoming more expensive and I believe it's one of the main reasons why the current government is embarking on the One District One Factory so that within the community. They are focusing more on the rural areas, by setting up a factory, to employ the locals, develop their skills and once they are employed and able to make revenue, other social amenities will come in to the area because they are in business," Mr Dadson mentions.
The Principal Consultant of Nigerian based Ashien Douglas and Co., Mr Ashien Douglas says by engaging in manufacturing creates the involvement of all structures of the economy, such as the very rich, the middle class and the lower segment.
"It ensures that income is more evenly distributed because the people who are at the lower level will get paid, through employment. But if it's not manufacturing maybe simply importing of exporting products, certain type of people may be cut off," he explains.
Mr Douglas however says African governments are not doing enough to use manufacturing to employ people particularly the youth.
"In Africa, we do not tap into the value chains when it to our agricultural products, for instance, once cocoa is produced and harvested in Ghana, they are sent to Europe for processing into chocolates. Who is benefiting more? The Europeans, because the factories there are employing their people and make the product and send it back to Africans to buy at a cost after adding a little value. What stops African governments to produce cocoa, turn it into beverages, candies, chocolates, and all these chains at various levels are going to create employment and expand the economy," he says.
According to Douglas, funding is not a problem, because the funds are there, but what is required is putting ideas together to access the funds.
"How to put projects together in order to make it bankable to source funds from the appropriate authorities, such as the African Development Bank, World Bank, is what is required," he notes.