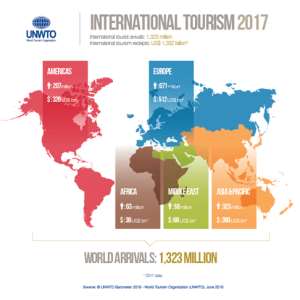 According to the recent UNWTO's World Tourism Barometer , Africa consolidated last year's robust results, led by Sub-Saharan Africa (+6%) while North Africa saw a 4% increase during the first quarter of 2018. International tourist arrivals also grew 6% in January to April 2018 compared to the same period last year. Results reflect a continuation of the strong trend seen in 2017 (+7%) and so far, exceed UNWTO's forecast of 4% to 5% for the entire year 2018.
In 2017, Africa surpassed its counterparts to record a +9% increase in international arrivals, as international tourism receipts increased 5%. This equates to 63 million visitors to Africa, out of the 1,323 million world arrivals; accounting for USD 38 billion receipts.

Confidence in global tourism remains strong according to the latest UNWTO Panel of Tourism Experts survey. The Panel's outlook for the current May-August period is the most optimistic in a decade, led by the particularly upbeat sentiment in Africa , the Middle East and Europe. Experts' evaluation of tourism performance in the first four months of 2018 was also robust, in line with the strong results recorded in many destinations around the world.
Credit: Josephine Wawira
Data Source: UNWTO