HCC Students Win Global Award In USA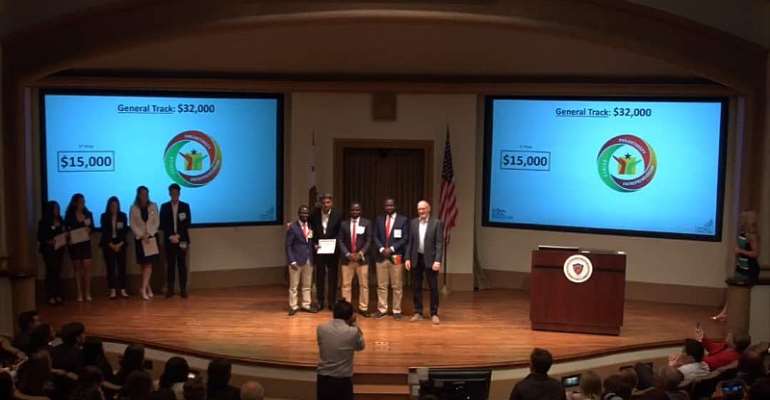 Students of Heritage Christian College, a university in Amasaman-Accra, made Ghana proud by winning this year's edition of the Global Social Innovation Challenge, in San Diego USA in a competition featuring 12 countries represented by over 50 teams. The Global Social Innovation Challenge is a social venture pitch competition that recognizes, resources, and rewards student-led social ventures focused on sustainable change. It is an initiative of the University of San Diego's Center for Peace and Commerce.
Team Charcoal from Heritage Christian College took the global platform by storm in a presentation on turning human waste into charcoal. The team won both the Audience Choice Award and the Grand Prize of $15,000.
Participants in the challenge take a social or environmental issue, and identify gaps in the approaches currently deployed to solve this issue. They create a viable business plan based on a new potential solution that can address these gaps. Participants pitch their venture to a panel of judges for up to $50,000 in funding and other resources. They also gain invaluable entrepreneurial experience, mentoring, and network connections to propel their change-making journey to the next level.
The 3 students who won this year's edition, Evans Kwarkye, Stephen Nketsia and Austin Carboo, are 2nd year Bachelor of Business Administration students of Heritage Christian College. The Center for Entrepreneurship, Philanthropy and Ethics, a unit of Heritage Christian College which promotes business initiatives by its students, is a strategic partner in the project.
Follow the link to watch it.
https://youtu.be/Tj-P_ZJFRbA