Kintampo South picks journalist as Presiding Member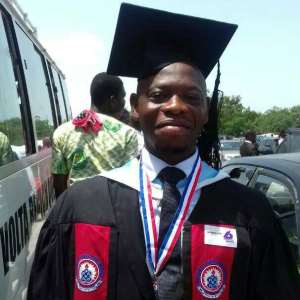 39-year old journalist, Daniel Wiafe Akenten, has been elected as the Presiding Member of the Kintampo South District Assembly at the assembly's recent meeting at Jema, the district capital.
He defeated the incumbent PM, Obed Sarfo Donkor after three round of fiercely contested elections between the two.
With 40 out of 41 Assembly-members present, none of the two secured the required votes required to carry the day with 29 votes as against ten by Mr. Donkor as at the end of the second round of voting.
Mr. Donkor, who is also the Assembly-member for Suamire, stepped down finally for Mr. Wiafe Akenten to go unopposed during the third round, culminating in an overwhelming endorsement by the assembly members present.
Speaking to the media after his elections, Mr. Wiafe Akenten, who until his appointment was a government appointee of the Kintampo South Assembly, thanked the Assembly-members for the trust and confidence reposed in him and pledged to work hard toward development of the area.
He stated that he would work closely with past Presiding Members and all Assembly-members for the common good of the area.
Mr. Daniel Wiafe Akenten is a professional teacher and a journalist and has nearly two decades of rich experiences in both professions.
He completed the Methodist JSS at Kintampo in 1994 and proceeded to the Techiman Senior High School in January 1995 and completed in December 1997 for his SSSCE.
Mr. Wiafe Akenten completed the Bagabaga Training College (now Bagabaga College of Education) in 2000 with Teachers' Cert A and later enrolled at the University of Education, Mampong Campus and graduated in 2010 with a Bachelor of Education (B.Ed) degree.
Last year, he completed his Masters' Degree in Communication and Media Studies from the University of Education, Winneba.
He has also attended several training workshops in relations to both journalism and the teaching professions and has a lot of certificates from such programmes, including an Executive Certificate from the Graduate Institute of Governance and leadership in Accra.