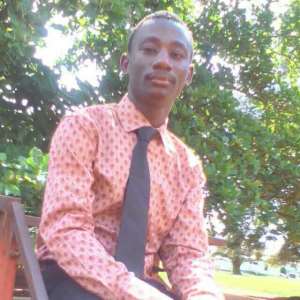 A vibrant and an outspoken student activist from the University of Education Winneba-Mampong, has disclosed plans to contest for one of the outstanding student unions in Ghana , The National Union of Ghana Students (NUGS).
He disclosed this during an interview with a popular Accra-based radio station, Anigye FM. Throwing more light on his intention, he said that NUGS for quite sometime has been bedevilled with disunity which is a major impediment for the student union as it stands.
Hefurther went to speak on what motivated him to render his service for the student union saying "I believe I'm good enough to constest because I have a unifying spirit which other colleague students have identified in me , teamwork is what I believe in and as well , generates unity of purpose . I also have a good writing ability by talent and it will interest you to know that I'm an award winning student writer currently at the Mampong satellite of the university .
My press releases many say are worth building a nation and I can state on records that , a press release I issued on the alarming mortality rate of our Kumasi Academy Senior High School(KUMACA) students with respect to Cerebrospinal Meningitis(CSM) where I Called on the minister of Education and that of health to swiftly bring the situation under control . That press release I could remember went far and that was where NUGS picked up the mater and sensitised my brothers and sisters in the senior high schools".
Oscar Komla Bedzra who is the immediate past Board Member of the University's Chaplaincy , member of the constitutional amendment committee of university's chaplaincy , Chairman of the report writing committee of the recent Unified Intercessory Prayers(UIP) , General Secretary of the Global Evangelical Students' and Asscoiates' Ministry(GESAM) and Coordinating Secretary for the University's chapter of the International Association of Students in Agriculture and Related Sciences(IAAS) .
Speaking on one major problem facing the education sector , he emphasized that , education not bing made a national agenda is one major drawback for the sector and that to a larger extent accounts for the many deficiencies we have in the sector . He went on to explain how this can be achieved .
He went further to call on the leadership of the students' union to unite or initiate unity guidelines ahead of congress . He again added that , the union must uphold their core mandate necessary for addressing the plights of students in Ghana.