Ready To Shape Ghana's Destiny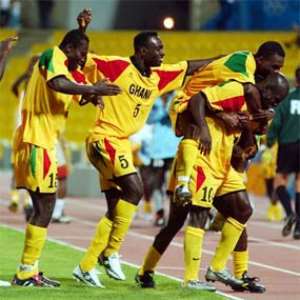 IMAGINE Stephen Appiah emerging from the players tunnel at Munich's Allianz Stadium for the opening match of the 2006 World Cup alongside the likes of Emerson, Ronaldo and the menacing world champions of football. It would have sounded absurd sometime ago but with each round of World Cup qualifier, it begins to look possible that next year, Ghanaian footballers will for the first time take the world football championship stage and fulfill a prophecy made long ago by African top players like Roger Milla that the Black Stars deserve to be on the biggest football.
But I deliberately visualised in my opening line because there is still a long way to achieve that goal. Two matches and six points separate Ghana from a first World Cup qualification. There are also two countries with more than a say in how this gripping football story will end.
Cape Verde will test the Stars to the hilt on the final day of qualifiers in October but first Stephen Appiah and his mates must get the better of Uganda this Sunday at the Baba Yara Stadium in Kumasi.
It is a game that has already gripped the attention of the nation. The promotions are running and media houses eager to cash in on the growing popularity of the Black Stars are mobilising fans in masses.
For the players, this is the delivery time. In four qualifiers at home so far, the Stars have proved beyond every doubt their capability to win. It was 3-0 against South Africa. Cape Verde did slightly better losing by two unanswered goals in the worst game in terms of quality throughout the qualifiers at the Baba Yara Stadium. Congo DR created panic in Kumasi by securing a draw but it was business as usual when in June this year, skipper Stephen Appiah once again inspired the Stars to a comeback win against Burkina Faso.
While the record at home is close to impeccable, it is worth noting that Uganda got a draw in their last visit in Kumasi. And they have arrived at the same venue, eager to repeat the same dosage.
The Cranes delegation leader John Matuva, on arrival at the Kotoka International Airport on Wednesday, told The Statesman that "we will be seeking to do better".
Coach Mohammed Abass, an Egyptian who clearly admires Ghana football, is more modest in his assesment of Sunday's match. "No coach can say I will win, lose or draw but I can promise we will play a very good match."
Abass has watched the Cranes crumble qualifier after qualifier. He has also watched as his team loses bite upfront and traveled to Kumasi without leading striker Hassan Mubiru. He is also a self confessed lover of Ghana football. He says: "I have always considered Ghana to be the Brazil of African football but also knows that despite playing well and producing good players like Tony Yeboah and Abedi Pele, they have not been to the world cup before."
Stars captain Appiah, before he joined his colleagues at Obuasi, spoke of the expectation and pressure that come with Sunday's game and inevitably the player's determination to do the job when it matters most.
"The playing body has a big responsibility. We've put up a good show so far and we have to end it well. The way the fans have trust in us and believe we can make it, has been great. They should continue praying for us and come in their numbers."
While the pressure to deliver will be immense, Appiah says he is determined not to let that affect the playing body.
"We will do nothing extraordinary on Sunday", he said. "We just have to play the way we have played throughout the qualifiers. We have to bear in mind that we must make it to Germany 2006. We have our destiny in our hands and shouldn't let it slip.
"As captain, I feel no pressure for big games like this. I just get unto the field and play. Some of the layers will feel the pressure, its normal because this is a huge game but that won't affect our focus."
Ghana versus Uganda should not normally be a big deal. While the Black Stars have won four African titles, the Cranes have none. In the present qualifiers, Ghana sits top of the group while Uganda lie bottom behind Congo DR. And when the Black Stars were preparing for the Kumasi tie with a high profile friendly against Senegal, the Ugandans were wrangling about team list and players invited to camp.
Yet on the few occasions they have played against Ghana, Uganda has given us reason to fear. Before a Dujkovic-led Rwanda killed off Ghana's 2004 Nations Cup dreams, Uganda had shattered local confidence in then coach Bukhard Ziese by dominating the stars in a 1-1 draw in Kumasi.
In the corresponding tie of the World Cup qualifiers under a certain Mariano Barreto, the Ugandans took an early lead and led for a long spell of the game before Asamoah Gyan rescued the Stars with a late equaliser. It was the first point of the qualifiers for the Black Stars, who have gone on to take firm control of the group.
Now, they will need to do even better if Ghana is to consolidate its hold on the group and grab the World Cup ticket it badly needs.
And the good thing for Ghana is that, the players who have been at the center of the rampaging run so far, are getting better.
Michael Essien, with two goals in the qualifiers, will grab all the attention ahead of the big match not only because of his record breaking move to Chelsea in England but also because of how he has played in World Cup qualifiers. Prior to Ghana's last qualifier against South Africa, Essien was fast gaining the reputation as a man who rarely put in the effort for Ghana. But he stamped his mark on that Bafana game in a manner that surely should put that debate to rest.
Now, he and his colleagues know the World Cup dream is getting ever closer. "I want to play at the World Cup and I think if we play as well as we have done so far, we will qualify for Germany".
The artful Appiah will be given the responsibility of adding colour and vision to the midfield while Essien must provide both the attacking inventiveness and midfield solidity that has made him such a famous football name. Ratomir Dujkovic is likely to stick by the central defensive pair of John Mensah and Issah Ahmed who were ruthlessly effective against South Africa. The striking option is the one area likely to bug Dujkovic throughout. He might settle on Joe Tex Frimpong in the sound knowledge that if things get difficult, Isaac Boakye can be trusted upon to work some magic.
They must work magic because we need it badly. And that's why skipper Appiah says: "We've got our destinies in our hands. We must determine it with a mix flair and force on Sunday if need be".