Hawkers' return to the streets
News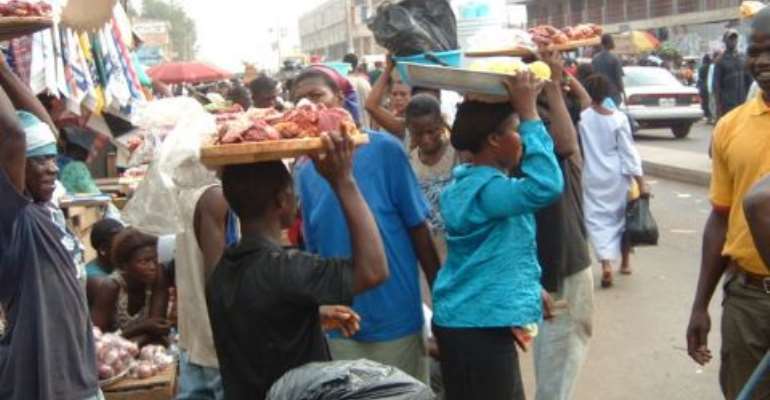 ... It is a sign of indiscipline - AMA Accra, Aug. 24, GNA - The Accra Metropolitan Assembly (AMA) on Wednesday attributed the return of petty traders and hawkers to pavements and in Central Business District of the capital to indiscipline on the part of the traders.
It said the return of the hawkers was not sanctioned by the Assembly and pointed out that it was the result of the recalcitrance of the traders.
Mr Noel Arcton-Tetteh, Public Relations Officer of the AMA, made this assertion when he spoke to Ghana News Agency (GNA) in Accra about the street hawkers, who have gone back to the streets and pavements from where they were evicted about eight months ago.
He said because of the heavy cost involved in maintaining the Police and the AMA Task Force the Assembly thought it wise to reduce their numbers since the aim of keeping the hawkers off the pavement had been partially achieved.
Mr Arcton-Tetteh said the traders took advantage of the situation and started returning gradually to the streets and pavements. He said there were instances when some of the hawkers attacked members of the AMA Task Force in their attempt to return to the streets when they saw the reduction in the number of the Taskforce. Mr Arcton-Tetteh said even though the AMA was doing everything possible to provide the hawkers with a permanent site the Assembly was under no obligation to relocate them.
He said everything that the Assembly was doing for the petty traders was a result of the public outcry during the eviction exercise and the need to add a human-face to the whole exercise.
Mr Arcton-Tetteh urged the hawkers not to use the daily tolls collected by the AMA revenue officers to justify their stay on the pavements and streets since the Assembly's by-laws said anybody, who was engaged in meaningful activity was to pay a daily toll. 24 Aug. 05