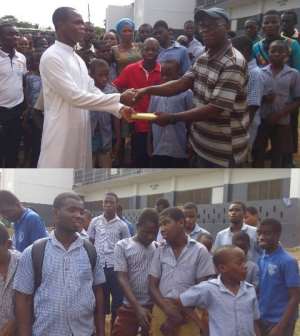 The Saint Kizito Catholic Youth Church, Nima, donated an amount of GH¢ 3,000.00 to the Akropong School for the Blind in the Eastern Region to support them buy musical instruments.
Mr Joseph Atsu Homadzi, the Assistant Headmaster of the School, received the donation.
Mr Emmanuel Akakpo Amuzu, the President of St Kizito Catholic Youth, said the donation was part of the youth's corporate social responsibility activities christened: "Passion Night", which was used to solicit support from the congregation.
The Youth President said they were motivated by Matthew 25:40 which said 'whatsoever you do to the least of my brother you do unto me', adding that the gesture also formed part of the social impact and contribution of the Church to the nation.
Mr Akakpo stated that the Catholic Church encouraged members to pray, fast and give alms in the season of lent, and the youth thought it prudent to extend their hands to the School to put smiles on the faces of the inmates.
Reverend Francis Gave, a Deacon of the Catholic Church, said the Church was a Missionary in identity and the Missionary work went beyond holding the Bible and preaching, but rather believe in practicality.
Mr Homadzi expressed his gratitude to the Church for their unflinching support and assured that the money would be used for the purpose for which it was given.
The Assistant Headmaster appealed to other corporate bodies and philanthropists to emulate the gesture of the Church by supporting them in cash or kind to address some of the ailing challenges faced by the School.
Other executive members of the Youth present were Ms Dora Anim, the Secretary, Mr Michael Annobil Jnr, the Assistant Secretary, Mr Onasis Danso Kizito, the Financial Secretary, Mr David Kofi, the Male Organiser, and Ms Esther Alantiga, the Ladies Organizer.