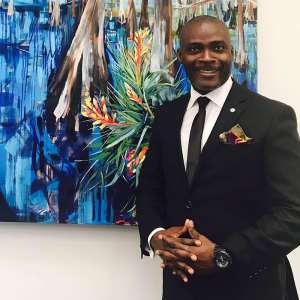 Late Dr. Prosper Yao Tsikata
Life is a struggle and our elders say, "we are on a journey", whilst others say "we are here to trade and once one's goods are sold, he or she has no other choice than to return to his or her Maker. But how, who and when are hidden from us. In exploring those questions within the context of Efo Prosper's death, I dare ask, "His time or he was "escorted"?" Growing up in my village, Anloga, if one is destined to die through choking, drowning, accident, etc., even if he avoided solid foods and resorted to drinking only "tea", he could be choked to death by a bone, and if he avoided the sea or lagoon, he could get drown in a bucket of water respectively. But the gym that gives life taking your life is something that a lot of people are finding it difficult to reconcile with. Whether yours was destined by providence or not is still a mystery to many.
I first met Dr. Prosper Yao Tsikata when he was a PhD student. I helped in arranging for the University of Ghana, Commonwealth hall's conference room for him to give a talk. The programme was very successful and well attended. Mr. Mayor Agbleze out of excitement sponsored our refreshment at the Akuafo Hall garden after the audience left. Efo Prosper sat close to my left and Mr. Mayor Agbleze sat across the table facing me. He went soft whilst we went for what was compatible with our system at the time. Efo Prosper was so passionate about Ghana and Anlo land and really wished to contribute his quota towards their progress. We had very fruitful discussions about Ghana and Anlo land to late in the evening.
Later the following day, he left to Anloga. As to what transpired there, I can't speak to because I wasn't there. He left to the United States of America unceremoniously without informing me. This I had no problem with, because when I was a child my Grandfather told me that when you are going to "fly" over the Mediterranean Sea, you don't inform people about it, otherwise you will land before you get to your destination. He stressed, even in your spiritual private jet flight, you dare not inform anybody. Efo Prosper indeed got to the States safely and we communicated on several occasions before I left social media and suspended writing of articles for personal and work reasons.
I was informed of Efo Prosper's death by my Boss, who is one of the United Nations' Professors (Scholars), who had no idea about me knowing Efo Prosper. That is how the world is. Frankly, I was not shocked by his death but was rather surprised. Because, life lessons have made me to understand that the news you least expected are those that would hit you at the head. It is said, "it is just not easy if the mouth that eats salt and pepper is talking about you daily, whether good or bad". I sincerely wished you stay with us longer and develop some of your gray hairs on your teeth before you pass on. But who am I?, "all men are mortals" and everyone is on transit on this earth and is at the beckon of death. For, "Vigbedor megbea awlimedor o"; "The child that refuses to oblige, can never refused when death calls".
Dr. Prosper Yao Tsikata, you rose very fast in life through many difficulties and attained many laurels to your credit. Your certificates, your publications groan in pain without anybody to comfort them. People are sad and crying that you are gone, but I take consolation in the fact that "A "man" does not cry in times of crisis". And death is the debt we owe to life and our ancestors in their wisdom hid from us the secret of life and death. Quoting from my Novel to be published soon, "Anlos generally attribute the cause of death to supernatural forces or by fellow human beings". But it is the role of one's family to ascertain. As my great Grandfather used to say, if it was the "Old death" that killed you, then rest in peace, but if it was the "New death" that killed you, please don't hesitate to return to complete the great works that you have started.
Long live Ghana, long live Anlo Land!!!
By: Charles Atsyatsya (Aworl-worl)
Member of Anlo Youth Council and Banini Family Royal Youth.
Email: [email protected]