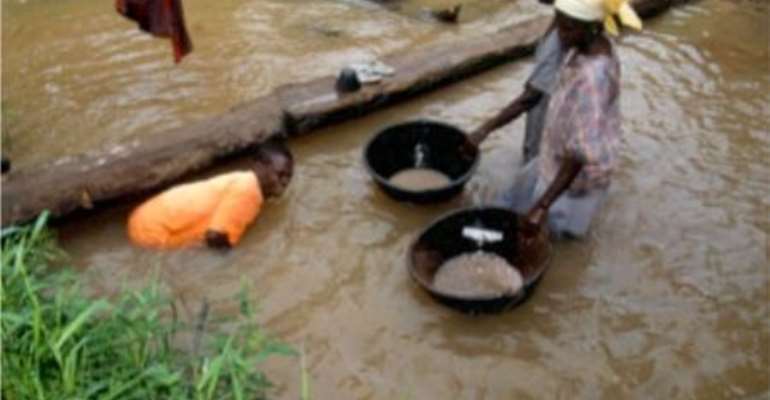 About forty 'galamsey' operators are feared dead. This followed the caving in of a pit in which they were digging for gold at Nyanfoman-Noyem in the Birim North District of the Eastern Region.
So far, only one body has been sighted deep inside the pit which caved in last Wednesday.An official of the Department of Mines told journalists that although there was no official record about the number of people who were involved in the 'galamsey' operation,about 40 of them were believed to have been buried inside the pit.
A 10-member rescue team from AngloGold Ashanti, under the leadership of Mr John Baidoo, Mines Rescue Superintendent, is currently at the site to see if the bodies can be retrieved.
Officials of Newmont Ghana,a gold prospecting company in whose concession the illegal miners were doing brisk business, were on hand to provide humanitarian assistance. They,nonetheless,refused to make any comment.
However,some of the people who went to the site with those trapped in the pit on early Thursday morning said about 80 men went down the pit and none of them had come out after the walls of the mines caved in.
They said all attempts by those outside the pit to rescue their trapped colleagues proved unsuccessful because they lacked the skills for such rescue operations.
According to them it was while waiting for help on Friday that they heard another loud sound,indicating that the walls of the pit had caved in,sealing the doom of the victims,most of whom had come from different parts of the country.
When the Graphic visited the scene of the incident on Saturday,the place was overcrowded with people,mostly relatives of the deceased,some of who were wailing. Others too had come to ascertain whether their relatives were among the victims or not.
Heavily armed policemen led by ASP Joseph Darison from the Akyem Ofoase Police Station were also on the site to maintain law and order.
The Nyanfoman-Noyem village,which hitherto was a predominantly farming community,was two years ago turned into a busy gold prospecting centre with "gallamsey" operators from all over the country.Experts classified its gold as the best in terms of quality in the country.